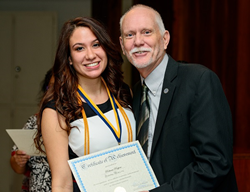 "We are very pleased with the endorsement of our Education Department," said WAU Provost Cheryl Harris Kisunzu, Ph.D., MSN, FNP, RN.
Takoma Park, Md. (PRWEB) October 03, 2014
The Washington Adventist University (WAU) Education Department has been endorsed by the North American Division of Seventh-day Adventists Office of Education (NADOE). The university met or exceeded all of the standards for endorsement, and the endorsement period of six years is the maximum possible, continuing through December 2020.
"We are very pleased with the endorsement of our Education Department," said WAU Provost Cheryl Harris Kisunzu, Ph.D., MSN, FNP, RN. "Our faculty, staff and students demonstrate hard work and commitment throughout the year, and this endorsement is a wonderful reflection of their contributions and accomplishments."
A visiting team of evaluators from NADOE visited the university's Takoma Park campus on September 23 and 24 to assess the teacher education program. The three-member team consisted of Carol Campbell, the chair, and members Ham Canosa and June Fiorito. They conducted a full endorsement visit that included a thorough review and evaluation of the university's accreditation documents, program philosophy, course descriptions, syllabi, bulletin information, portfolios, assignments, student work samples, and alumni testimony.
WAU is accredited by the Adventist Accrediting Association (AAA), with Department of Education accreditation by the Middle States Commission on Higher Education (MSCHE), and also by the Maryland Department of Education (MSDE).
The areas assessed during the visit included religious preparation, methodology for teaching, principles and philosophy of Seventh-day Adventist education, principles of healthful living, experiences in multi-grade classrooms, Seventh-day Adventist curriculum materials, and (to affirm the preparation of candidates for the ministry of teaching) experience in Seventh-day Adventist schools.
The visit also included validation of a curriculum library with all of the books recommended by the North American Division, a designated classroom with technology, and enough full-time faculty to meet the needs of the students enrolled in the WAU education program.
# # #
Washington Adventist University is part of the Seventh-day Adventist system of higher education, and it has been educating college students since 1904 on a 19-acre campus in suburban Takoma Park, close to the nation's capital. A total of 1,185 students of all faiths participate in the university's eight graduate and 32 undergraduate programs. The 2014 edition of U.S. News & World Report ranked Washington Adventist University among the best regional colleges in the north.