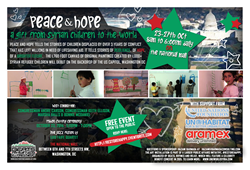 Washington, DC (PRWEB) October 03, 2014
On October 23, 2014 a 1,760 foot art installation will open on the National Mall in Washington DC displaying paintings of over 1,000 Syrian refugee children. The art installation is a non-political cultural diplomacy initiative aimed at educating the public about the plight of Syrian children and youth. "Peace & Hope" shares firsthand stories of Syrian children and youth impacted by over 3 years of conflict that has left millions displaced and in need of life saving aid.
The art installation, named "Peace & Hope," was created in the Shakespeare Tent, Zaatari Refugee Camp in Jordan under the leadership of popular Syrian actor, Nawar Bulbul, a war refugee. Over the course of a few months, children and youth of all ages were invited to paint on the canvas. The drawings tell stories of hope, of despair, of innocence, of peace, of love, and of devastation.
The installation will be displayed from October 23-27th on the National Mall (between 6-7th street NW) directly in front of the Smithsonian Museum from 8:30am-6:00pm daily. The installation will remain on display during the Marine Corps Marathon schedule to run by it, anticipating over 50,000 viewers.
Ribbon cutting and opening event, marking the global debut of the canvas, will be held on 23 October from 5-7pm on the National Mall in Washington, DC. The ribbon cutting will include remarks from beneficiary organizations and installation organizers, bringing together the local DC arts scene, activists, diplomactic corps, members of government and NGOs. A Cuban-Latin fusion jazz performance by Luis Fife Quartet will begin at 5:45 pm.
Art installation host committee members include Congressman Andre Carson, Congressman Keith Ellison, Marsha Ralls, and Bonnie McDaniel. Young humanitarian host committee members include: Anastasia Dellaccio, Christy Delafield, Amanda Cole, Samar Ali and Trystin Kier Francis.
The shipping of the 300 lb (136 kg) canvas to Washington DC was sponsored by Aramex. Additional support for the art installation was provided by United Nations Human Settlements Programme (UN-Habitat).
The art installation is organized in partnership with a larger public affairs initiative, #RestoreHappy, organized by Beats, Rhymes and Relief, a US-based non-profit organization that utilizes the arts to raise awareness and support for global humanitarian relief efforts. Earlier this year, humanitarian activists Hazami Barmada, Omar Al-Chaar and Rameen Aminzedah visited Zaatari Refugee Camp in Jordan to produce (Restore)Happy Syria, a spinoff of Pharell Williams famous Happy song, featuring Syrian refugee children to kick off the campaign (video: https://www.youtube.com/watch?v=S5wDVA9gDxg). In early 2015, the group will host a celebrity benefit concert for the cause.
To learn more about the art installation and/or One World Concert, visit: http://www.oneworldsyria.com.
For more information:
Hazami Barmada
hazami(at)barmadaconsulting(dot)com
+1 (202) 714 1012