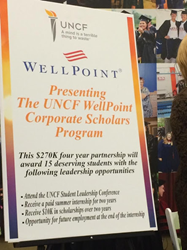 "We are thrilled to partner with WellPoint to help minority students gain the professional experience they need for successful careers..." - Andrea Neely, UNCF Regional Development Director
Indianapolis, IN (PRWEB) October 01, 2014
UNCF (United Negro College Fund) and WellPoint Foundation have announced the launch of the UNCF/WellPoint Corporate Scholars Program, a nationwide initiative aimed to address diversity in the workplace. The $270,000 program will place 15 college students in eight-week paid internships each year for two years.
"Often, the biggest barrier for minorities seeking entry to a field is the lack of a clear opportunity and the difficulty of building a network of connections," said Andrea Neely, UNCF Regional Development Director. "We are thrilled to partner with WellPoint to help minority students gain the professional experience they need for successful careers, and hope that by continuing this initiative over time we can have a significant impact on diversity in healthcare, making the field more representative of the United States."
WellPoint will provide selected candidates with eight-week paid internships during the summers of 2015, 2016, 2017 and 2018 and they will receive a $5,000 scholarship for each year they participate in the program. The internships will be offered at various WellPoint business locations throughout the country and will be designed to provide students with hands on experience, working side by side with WellPoint business leaders where students will have the opportunity to develop and strengthen their skill set to better prepare and position them for employment upon graduation.
"We know that in today's changing health care landscape it will be critical for companies to have a workforce that represents the diversity of the consumers they serve," said Karin Sarratt, vice president, human resources for WellPoint. "Through this internship program we want to help prepare the next generation of health care leaders who understand the unique needs of health care consumers across the country and can continue to work towards closing health disparity gaps."
UNCF, which has nearly 20 years of experience in creating pipeline programs for diverse students of color, is providing crucial leadership in selection of Scholars of this initiative. This includes: student outreach and recruitment; application management; implementation of the professional development and career readiness conferences; access to career coaches and career placement assistance; and tracking of student activities and professional development after participation.
Additionally, two years ago, UNCF took over the administration of the Gateway to Leadership (GTL) program, a pipeline program designed to increase the number of minorities who pursue professional management careers in the financial service industry. In the first cohort administered under UNCF leadership, all 15 participants secured employment in the financial services industry, resulting in a 100 percent placement rate.
"Through this new UNCF/WellPoint Corporate Scholars Program we aim to achieve similar results that we have actualized in creating a pipeline program designed to increase the number of minorities who pursue professional management careers in the financial service industry," said Taliah Givens, Executive Director, UNCF Professional Development Programs.
For UNCF/WellPoint Corporate Scholars Program application information, please contact:
Taliah Givens
Executive Director, UNCF Professional Development Programs
taliah.givens(at)uncf(dot)org
About UNCF
UNCF (United Negro College Fund) is the nation's largest and most effective minority education organization. To serve youth, the community and the nation, UNCF supports students' education and development through scholarships and other programs, strengthens its 37 member colleges and universities, and advocates for the importance of minority education and college readiness. UNCF institutions and other historically black colleges and universities are highly effective, awarding 20 percent of African American baccalaureate degrees. UNCF administers more than 400 programs, including scholarship, internship and Scholarship, mentoring, summer enrichment, and curriculum and faculty development programs. Today, UNCF supports more than 65,000 students at over 900 colleges and universities across the country. Its logo features the UNCF torch of leadership in education and its widely recognized motto, "A mind is a terrible thing to waste."® Learn more at http://www.UNCF.org
About WellPoint Foundation
The WellPoint Foundation is the philanthropic arm of WellPoint, Inc. and through charitable contributions and programs, the Foundation promotes the inherent commitment of WellPoint, Inc. to enhance the health and well-being of individuals and families in communities that WellPoint, Inc. and its affiliated health plans serve. The Foundation focuses its funding on strategic initiatives that address and provide innovative solutions to health care challenges, as well as promoting the Healthy Generations Program, a multi-generational initiative that targets specific disease states and medical conditions. These disease states and medical conditions include: prenatal care in the first trimester, low birth weight babies, cardiac morbidity rates, long term activities that decrease obesity and increase physical activity, diabetes prevalence in adult populations, adult pneumococcal and influenza vaccinations and smoking cessation. The Foundation also coordinates the company's year-round Associate Giving program which provides a 50 percent match of associates' campaign pledges, as well as its Volunteer Time Off and Dollars for Doers community service programs. To learn more about the WellPoint Foundation, please visit http://www.wellpointfoundation.org and its blog at http://wellpointfoundation.tumblr.com.
###
Contact:
Joi C. Ridley
Joi.Ridley(at)uncf(dot)org
202.810.0225