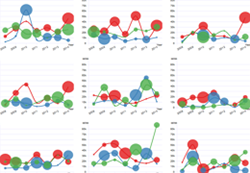 We built this analytical engine within the browser so that organizations big and small can simply let their users do self service data discovery without worrying about installing desktop software on each user's machine
PITTSBURGH, PA (PRWEB) October 03, 2014
Rudrasoft, the software company that specializes in data analytics dashboard solutions, announced today that it has released an updated version of its popular InfoCaptor software that includes a new, Web-based Data Visualizer. The Visualizer enables users to perform ad-hoc visual analysis within the browser and publish it to finalized dashboards with just few clicks.
"Our clients face an ever-growing and changing array of data inputs that they need to analyze and display," said Kamlesh Jethwa, Chief Engineer at Rudrasoft. "We're constantly working to give them new tools that give them the ability to simplify data analysis and visualization for all kind of data."
People are drowning in Data and Corporations are drowning in a plethora of Analytic applications. Organizations are increasingly abandoning thin client mantra and are forced to adopt a mix of desktop based and web based analytic applications.
"We knew this to be a big pain with our customers and so we spearheaded our mission to built a true thin client Analytical engine implemented within the browser. We built this so that organizations big and small can simply let their users do self service data discovery without worrying about installing desktop software on each user's machine," said Kamlesh Jethwa.
This release includes
1. A stunning Visual Analyzer for ad-hoc analysis and self service data discovery
2. Brand new charting engine (using D3js foundation)
3. Streamlined workflow
With the introduction of new charting engine, a comprehensive library of charts have been introduced. Some of the notable charts are hierarchical charts such as Circle Pack, Chord Diagrams, Tree Maps and Cluster Diagrams. The new Visualizer makes it easy for users to build pivot tables or Trellis of small charts.
InfoCaptor now includes over 30 Vector based Map Visualizations, close to 40 types of chart visualizations, over 100 flowchart icons and other HTML widgets.
InfoCaptor also provides a free style dashboard editor that allows quick Dashboard mockups and prototyping. With this ability users can place widgets directly anywhere on the page and use flowchart style icons and connectors for annotation and storytelling.
The Visualizer is absolutely free to use for CSV and flat file datasets. Users do not even need to register or login.
Simply visit any of the Cloud based analysis below and click on the Data Tab to upload your dataset
1. http://bit.ly/infocaptor_tendulkar
2. http://bit.ly/infocaptor_jamesbond
3. http://bit.ly/infocaptor_retailer
InfoCaptor is an intuitive, HTML5 based-browser Business Intelligence application. The software can connect with data from virtually any source in the world, including SQL database from Microsoft Excel, Microsoft Access, Oracle, SQL Server, MySQL, Sqlite, PostgreSQL, IBM DB2, Big Data and others. It can also connect to web based services such as Google Spreadsheets, third Party applications through HTTP Get, HTTP Post.
Users can download the application and install it within their firewall. Alternatively, a cloud hosting option is also available at https://my.infocaptor.com
To see visualization options for InfoCaptor, go to http://www.infocaptor.com