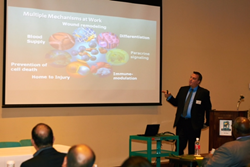 It was an honor to participate in this conference with medical leadership that values this technology and works so tirelessly to serve the people of Grand Bahama - Dr. Todd K Malan of Okyanos
Freeport, Grand Bahama (PRWEB) October 02, 2014
Dr. Todd K. Malan, M.D., presented to the Grand Bahama Medical & Dental Association 14th Annual Scientific Educational Conference on the science, safety and efficacy of adipose- (fat) derived stem and regenerative cells (ADRCs) for ischemic heart disease and other unmet healthcare needs.
"It was an honor to participate in this conference with medical leadership that values this technology and works so tirelessly to serve the people of Grand Bahama," said Dr. Todd Malan." It is an opportunity for us to work closely with local doctors to improve the quality and standards of care for all patients."
Dr. Malan explained the interrelationship between tissue ischemia, inflammation, autoimmune response and cell death and how ADRCs have combined mechanisms known to assist in repairing multi-factorial illnesses associated with those issues.
According to Malan,"The procedure begins with the extraction of a person's body fat, a process done using advanced water-assisted liposuction technology. The person's own adult stem cells are then separated from the fat tissue using a European Union-approved cell processing device."
Immediately following this, the cardiologist injects these cells into and around the low blood flow regions of the heart via a catheter—a protocol which allows for better targeting of the cells to repair damaged heart tissue."
Adult stem cell therapy for heart disease is emerging as a new alternative for patients with severe heart conditions who want to live a normal life but are restricted in activities they can no longer do.
"As a leader in providing cell therapy, Okyanos is very excited to bring this innovative treatment to patients in a near-shore, regulated jurisdiction with a new standard of care," said Matt Feshbach, CEO of Okyanos. "We welcome the opportunity to help those patients with limited options a chance to live a normal life."
Offering this minimally invasive adult stem cell treatment in their new cardiac catherization lab, Okyanos is scheduled to open in October in Freeport, Grand Bahama.
About Okyanos Heart Institute: (Oh – key – AH – nos)
Based in Freeport, Grand Bahama, Okyanos Heart Institute's mission is to bring a new standard of care help patients with coronary artery disease live a more normal life and breathe better using adult stem cell therapy.
Okyanos adheres to U.S. surgical center standards and maintains the highest quality standards required in a cardiac environment, led by CEO Matt Feshbach and Chief Medical Officer Howard T. Walpole Jr., M.D., M.B.A., F.A.C.C., F.A.C.A.I. Okyanos Treatment utilizes a unique blend of stem and regenerative cells derived from one's own adipose (fat) tissue. The cells, when placed into the heart via a minimally-invasive catheterization, stimulate the growth of new blood vessels, a process known as angiogenesis. Angiogenesis facilitates blood flow in the heart and supports intake and use of oxygen (as demonstrated in rigorous clinical trials such as the Precise trial). The literary name Okyanos, the Greek god of the river Okeanos, symbolizes restoration of blood flow.