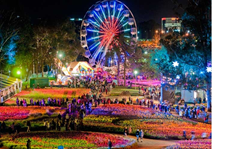 The weather in Australia is nice this time of year because it's not too hot, and business and first class ticket costs are more affordable just before the holiday rush.
San Bruno, California (PRWEB) October 02, 2014
Alpha Flight Guru, an international travel agency, recommends top vacation spots and events during the pleasant springtime in Australia. At this time of year, the Southern Hemisphere is just beginning its transition into Spring. The weather in Australia is nice this time of year because it's not too hot, and business and first class ticket costs are more affordable, just before the holiday rush. Alpha Flight Guru suggests the best bets for vacation travelers, including Floriade, Sydney, Melbourne, Canberra and Brisbane.
Deciding where to go while visiting Australia is easy. During the months of September and October, the free flower festival in Canberra is immensely popular. The Floriade Flower Festival will be held this year from September 13 – October 12. Highlighted events include a special appearance by the late Steve Irwin's daughter, Bindi, in the inspiration hub on October 4 and 5. There's even an after-hours event in Floriade from September 24 – 28 called Nightfest where visitors will enjoy great performances and flowerbeds bathed in colorful light.
Throughout October and into November, food lovers will celebrate the largest food festival in Australia during Good Food Month in Sydney, Melbourne, Canberra, and Brisbane. Australia's dining scene reaches its peak during this time of fabulous breakfast, lunch and dessert deals, glamorous parties and even night markets. Food and wine events are showcased during free, outdoor, family-friendly festivals. Alpha Flight Guru recommends that visitors keep an eye out for events with international chefs booked especially for this festival. Flying directly into Sydney will put participants in the heart of the action.
Quality time at the beach is always another alternative for the coasts of Australia. If getting in that last tan before heading back home and facing the cold is the goal, plenty of places exist in Australia to park one's "bum" and catch some rays. In Queensland, for example, the weather is always pleasant and warm. Noosa is a region along the Sunshine Coast and is located only 136 kilometers north of Brisbane (where there just so happens to be an international airport). For those looking for that holiday escape this Spring, Noosa is an ideal place to kick back and escape from the norm. Noosa boasts a reputable dining scene and stunning coastline to spend lots of sunny, leisure time.
Booking Australia tickets for mid-week travel with flexibility on stopovers will aid in finding affordable airfare to this land that seems so far from anywhere else. For more information on Australia and how to get there comfortably in business or first class, visit Alpha Flight Guru or contact us at 800-359-5175.
About Alpha Flight Guru
Alpha Flight Guru was founded by a small group of individuals with over 30 years combined travel experience and has been serving the airfare needs of business and leisure travelers alike since 2010. Alpha Flight Guru
carries a strong, global online presence with their headquarters based out of San Bruno, California, and additional locations in New York, Arizona and Pennsylvania.
Alpha Flight Guru specializes in business and first class international airfare, and typically saves travelers thousands over competitors by utilizing their extensive knowledge of the airline industry. Accredited by many travel organizations and supported with an 'A' rating by the Better Business Bureau, Alpha Flight Guru provides the best of online interaction and personal phone service.