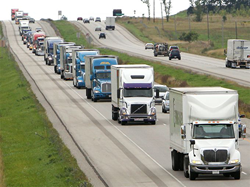 Over the past 10 years, Wisconsin's Convoy has raised approximately $820,500 with a total of 1,240 trucks!
Hartland, WI (PRWEB) October 02, 2014
JX Peterbilt recently joined truckers and law enforcement officials in supporting Special Olympics Wisconsin at the 10th Annual World's Largest Truck Convoy® presented by Quad/Graphics and EH Wolf & Sons. The event raised more than $121,000.
165 trucks, escorted by Law enforcement officials traveled 53 miles up US Hwy 41 from the Pioneer Travel Plaza in Richfield to the EAA Grounds in Oshkosh. The event celebrated truckers support of Special Olympics athletes and marked the end of National Truck Driver Appreciation Week.
JX Peterbilt's popular "Chuck Wagon" hospitality truck served doughnuts and hot coffee to attendees and participants during registration and staging.
Families waved and cheered the truckers as they watched from frontage roads and overpasses along the route. A celebration party concluded the event and featured awards, raffles, an auction, tailgate party and live music from singer/songwriter Rob Anthony.
Julie A. Buedding, Special Olympics Wisconsin Director of Development, Law Enforcement Torch Run® said, "Over the past 10 years, Wisconsin's Convoy has raised approximately $820,500 with a total of 1,240 trucks!"
Special Olympics programs across America host similar events to celebrate truckers. The event takes place in 13 states and four Canadian provinces in partnership with the Law Enforcement Torch Run®, a volunteer movement established by members of the law enforcement community to raise funds and build awareness of Special Olympics.
The event would not have been possible without the support of presenting partners Quad/Graphics and E.H. Wolf & Sons; founding partners, the Wisconsin Motor Carriers Association and the Waupun Truck-N-Show; Convoy hosts, the Pioneer Travel Plaza, the EAA, JX Peterbilt and others.
About JX Enterprises
JX Enterprises, was founded in 1970. Headquartered in Waukesha, Wis., the company operates 16 medium and heavy-duty truck dealerships throughout the midwest with locations in Appleton, Green Bay, Madison, Milwaukee, Waukesha, and Wausau, Wisconsin; Grand Rapids, Michigan; Bensenville, Bloomington, Bolingbrook, Champaign, Lansing, Rockford, and Wadsworth, Illinois; and Fort Wayne and Indianapolis, Indiana. The JX Truck Center location (Wausau, WI) provides Volvo trucks, service and parts in addition to Peterbilt offerings; and JX Hino - Chicago (Bolingbrook, Ill.) provides Hino trucks, service and parts. JX is known for their ability to assist customers by providing transportation solutions that maximize results and fit their long and short-term goals. The company offers a full array of financing, leasing, rental, parts and repair services. To learn more, http://www.jxe.com
About Special Olympics Wisconsin
SOWI is a statewide organization that unleashes the transformative power and joy of sports everyday around the world. Through work in sports, health, education, and community building, Special Olympics is addressing inactivity, injustice, intolerance, and social isolation by encouraging and empowering people with intellectual disabilities, leading to a more welcoming and inclusive society. With the support of coaches and volunteers, Special Olympics provides year-round sports training and athletic competition in 17 Olympic-type sports to nearly 10,000 individuals with intellectual disabilities. Join our online community by following us on Twitter and Facebook. For more information, visit SpecialOlympicsWisconsin.org or call (800) 552-1324.