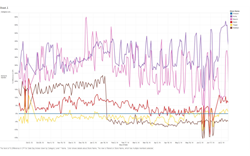 With our early predictions showing a highly competitive online-focused holiday season, 2014 promises to be more aggressive and price-dynamic than ever.
(PRWEB) October 02, 2014
Ottawa, Canada: 360pi, the leading provider of competitive price intelligence, today announced its annual Amazon Holiday Insights series with an in-depth look at Amazon's pricing leading into this year's much anticipated holiday shopping season. The second annual Amazon Holiday Insights report series will once again feature as-it-happens pricing analysis of the holiday retail landscape, including pricing strategies and tactics of Amazon, Walmart, Target and other major retailers.
Target and Walmart's Pricing Closes in on Amazon in the Housewares, Health and Beauty and Clothing Categories
A traditional stronghold for Amazon, the hyper-competitive electronics category has been its domain for the past year and Amazon clearly intends to hold on to this position. 360pi's analysis of over 22,000 SKUs shows that Amazon has held the lowest price in this category since the 2013 holiday season, with notable challengers emerging in the holiday season of 2013 (Target), throughout Spring 2014 (Best Buy) and since June 2014 (Walmart). As part of the Amazon Holiday Insights series, 360pi will continue to track Walmart's position against Amazon in this highly contested space.
As part of this report, 360pi has also compiled a composite index spanning four key categories, including electronics, housewares, health and beauty and clothing, which tells a different story. Representing an overall shift in the retail world, Amazon has not been the price leader in this larger sample of over 75,000 SKUs since early February 2014, a position largely uncontested before this time. Overall, Target has been the retailer that most closely tracked Amazon's prices since the beginning of Holiday 2013. Since Spring 2014, Walmart, not Amazon, has had the most competitive prices on the market.
"With our early predictions showing a highly competitive online-focused holiday season, 2014 promises to be more aggressive and price-dynamic than ever. The U.S. retail powerhouses are under extreme pressure to be competitive while showing stronger financial results than last year, a situation that demands up-to-the-minute price data analysis and bold SKU-level decision making," said Jenn Markey, VP of Marketing, 360pi. "360pi is pleased to offer a front row seat of this strategic battle to our subscribers."
Report subscribers will receive exclusive demand indexing of top holiday products in addition to pricing trend analysis on a category level. Running from November 1 through to December 31, the Amazon Holiday Insights series will feature:

Tracking of major U.S. retailer pricing changes
Product category trends and insights
Price monitoring of this season's top demanded items
Click here to receive 360pi's complimentary Amazon Holiday Insights 2014 reports.
About 360pi
360pi derives profitable insights from product and pricing big data to help leading omnichannel retailers, etailers, and manufacturers compete and win in a price transparent world. 360pi's customer base accounts for over $US100 billion in annual retail sales and includes Ace Hardware, Build.com, Overstock.com, and RIS Fusion award-winner Best Buy Canada. 360pi monitors millions of products with unprecedented accuracy to give retailers and manufacturers real-time visibility into the market with full awareness of the competitive pricing landscape to "right price" for their respective customers. Ultimately, 360pi helps customers make smarter pricing decisions to drive increased revenues and margins.