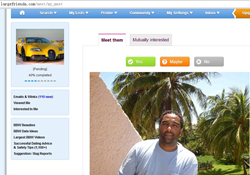 (PRWEB) October 02, 2014
LargeFriends.com, a dating website for heavy-set men and women, has recently updated its site with a new feature, "Let's Meet," which allows members to quickly identify and speak with relevant matches. Largefriends.com, founded in 2001, is the first dating website for plus-size singles and admirers on the web.
The "Let's Meet" feature is available to premium members and makes it very easy to scroll through and speak with other singles on the site. Meeting with another member is as simple as browsing through pictures and clicking "yes," "no," or "maybe" next to their pics. Members that are mutually interested can then chat with one another to see if they're a strong match.
The new feature is found within the "Unique Features" tab on the left side of the site.
Largefriends.com recently reached a milestone of over 1,000,000 members and offers a wide range of dating services and dating advice. The site offers a verification service as well as tips on how to stay safe while dating online.
On the homepage, Largefriends.com states, "Roughly more than 1.6 billion adults worldwide are overweight, including over 130 million adults in the U.S.! At LargeFriends, people could mix and mingle with hundreds of thousands of BBW, BHM and their admirers."
Proving size is only a number, LargeFriends is the website for plus-size singles. It specializes in helping big guys and big girls find their like-minded partners interested in dating, long-erm relationships, friendships and even marriage. People can check out the BBw dating success stories and read about how they've helped many members.
LargeFriends provides a safe and comfortable environment to share users' own personal life experiences with other like-minded individuals.
Want to learn more? Visit the site at http://www.LargeFriends.com.