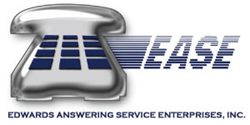 We hope our new website will help to increase overall customer satisfaction and experience.
New York, NY (PRWEB) October 02, 2014
A specialized business resource introduces a new mobile friendly website. Edwards Answering Service has re-designed its site with a new look and customer friendly navigation. However, their excellent customer service hasn't changed a bit. It is the same exceptional experience clients have enjoyed since the company opened for business in 1954.
The new website has greater functionality and is smart phone friendly. The traditional, reliable answering service features are still there, just tuned up to provide all the advantages available from current developments in technology. Clients' phones are answered with reassuring personal attention, and they still benefit from the incredible experience. Sixty years of continuous service is proof of commitment to excellence.
Being a family owned business with onsite employees, allows the company to provide a personalized relationship with their customers. Ultimately having state of the art telecommunications equipment combined with totally customized programming, results in greater depth of service.
The growth of social media, smart phone communications and online shopping has trained buyers and sellers to expect up-to-the-minute information with the click of a button. The new website design meets these expectations for current service customers. In 1954 it cost only $15.00 a month to have the phone answered, about fifty cents a day. That price is not feasible for the extensive service clients receive today. However, in celebration of their 60 years in business, all new and returning clients will get their first month of service for just $15.00.
Many of today's business owners and company managers are facing the prospect of greatly increasing their operating costs if they install their own systems for handling calls and orders in the manner their customers expect. Using a reliable, affordable call center already equipped with the necessary capabilities can have a profit-oriented effect on the cost of doing business. Companies that are looking at ways to make their business more efficient, or seeking resources on text messaging, database management, order entry, paging, voice mail and a variety of other business services are encouraged to visit http://www.edwardsansweringservice.com
Contact Information:
Ron Wendus
1-800-606-3273
sales(at)edwardsansweringservice(dot)com