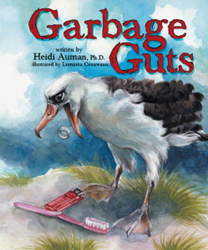 The albatross learns that humans not only cause the problem but are also the solution to marine pollution.
INDIANAPOLIS –
(PRWEB) October 02, 2014 -- Aria the Albatross doesn't feel so great: She's accidentally eaten a bellyful of plastic garbage instead of squid. The danger of plastic waste and other human-produced garbage takes center stage in this new book written by a zoologist with 25 years of experience researching the subject. Aria and her friends are right to be concerned about what they eat, especially when they end up feeling like they have "garbage guts."
The children's book "Garbage Guts" features many examples of wildlife that encounter plastic pollution dumped into the oceans and on beaches. A sea turtle chokes on a plastic bag he thinks is a jellyfish, a monk seal can't escape a strapping band and a humpback whale is nearly done in by a tangled fishing net. It's only when Aria finds help from an unexpected place that the whale finally becomes free.
In the end, the albatross learns that humans not only cause the problem but are also the solution to marine pollution. Changing ways of thinking about garbage and being conscious of what can happen once garbage makes it way to the habitats of sea creatures and birds are just two ways people can work to change the world for the better. Emotional poetry and bold, realistic illustrations by Luminita Cosareanu enhance this modern cautionary tale about the danger of plastic garbage in and near the planet's waterways.
Author Heidi Auman, who grew up in Michigan, has studied the impact humans have had on seabirds for 25 years, focusing on plastic ingestion. She has a doctorate in zoology from the University of Tasmania, a master's degree from Michigan State University in East Lansing and a bachelor's degree from Alma College in Alma, Mich. Auman lived on Midway Atoll National Wildlife Refuge in the middle of the Pacific Ocean for seven years, studying Laysan albatross and the effect of debris on the birds. She also has researched effects of junk food on urban gulls, plastic ingestion in sub-Antarctic and Tasmanian seabirds, and chemical pollutants in Great Lakes birds. She and her husband, James, live in Fern Tree, Tasmania.
Illustrator Luminita Cosareanu, a freelance illustrator from Botosani, Romania, has a graphics degree from the George Enescu University of Arts in Iasi, Romania, where she is pursuing a master's degree. She works in watercolor, pencil, charcoal, ink, airbrush, acrylic and digital media.
----------
For additional information, please visit http://www.garbageguts.net
Garbage Guts
Heidi Auman, Ph.D.
Dog Ear Publishing
ISBN: 978-1-4575-3055-5 64 pages $16.95 US
Available at Ingram, Amazon.com, Barnes & Noble and fine bookstores everywhere.
About Dog Ear Publishing, LLC
Dog Ear Publishing offers completely customized self-publishing services for independent authors. We provide cost-effective, fast, and highly profitable services to publish and distribute independently published books. Our book publishing and distribution services reach worldwide. Dog Ear authors retain all rights and complete creative control throughout the entire self-publishing process. Self-publishing services are available globally at http://www.dogearpublishing.net and from our offices in Indianapolis.
Dog Ear Publishing – self-publishing that actually makes sense.