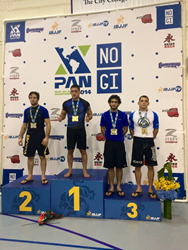 "I had fun, but also made a couple mistakes, this will definitely help me fill in that hole for next time though."- Jon Connelly
New York, New York (PRWEB) October 02, 2014
Jonathan Connelly defeated three opponents this past Saturday to win a Silver medal at the prestigious No Gi Pan grappling competition.
Connelly, a Blue Belt in Brazilian Jiu Jitsu, competed in the Lightweight division (168lbs and below). In the weight category he defeated 3 opponents and claimed his second No Gi Pan Silver Medal. Connelly also took home the Silver Medal at last year's Pan American Championships in the same division.
"It was tough falling short for the second time," says Connelly. "I had fun but also made a couple mistakes. This will definitely help me fill in that hole for next time though."
Jon Connelly is young in his martial arts career. Even though this was his second time on the podium at the Pan, he is only going into his third year as a Blue Belt. He is a coach and instructor at Maryland Jiu Jitsu school, Crazy 88 Mixed Martial Arts. A native from the Howard County area, Connelly is pursuing an athletic career in Grappling and Jiu-Jitsu competitions.
The No Gi Pan is an annual competition run by the International Brazilian Jiu-Jitsu Federation (IBJJF). The IBJJF is the governing body for the major grappling tournaments in the world, including the World Championships, Pan, European Open, and the Brazilian Nationals. They run competitions that require the Gi (uniform) as well as No-Gi (no uniform). The No Gi Pan is considered one of their two most prestigious No Gi events. For more information, please visit http://www.ibjjf.com.
Crazy 88 Mixed Martial Arts is a Baltimore-area martial arts program that focuses on Brazilian Jiu-Jitsu, Muay Thai Kickboxing, and Mixed Martial Arts competition. For more information, please visit http://www.Crazy88MMA.com