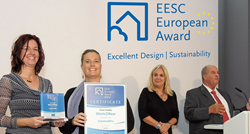 Waste2Wear® is an innovation that makes it possible to produce usable garments from environmentally damaging wastes
Frankfurt, Germany (PRWEB) October 03, 2014
Waste2Wear®, a brand of clothing and fabrics made from recycled plastic bottles, was honored to receive the European Award for Sustainability at the 2014 Ecostyle trade fair held in Frankfurt, Germany. As a way of recognizing exceptional design and promoting quality of life in Europe, the EESC annually presents the EESC European Award for excellent design and stainability. This year's ceremony was held on September 1st in the presence of an international audience and opinion leaders.
The official judging panel decided that Waste2Wear® was the appropriate candidate to be selected as this year's winner, based on comprehensive criteria and following the concept that in today's society, outstanding design goes hand in hand with acting responsibly for people and the environment.
"Recycling plastic bottles into eco-friendly fabrics is an excellent and innovative idea. Sustainability is what the EESC strives for and Waste2Wear® is an innovation that makes it possible to produce usable garments from environmentally damaging wastes", says the official jury reasoning document. "Nevertheless, not only are the products themselves sustainable, but Vision Textiles (the parent company of Waste2Wear®) also employs environment-friendly procedures when transporting goods, thus minimizing the carbon footprint by using reverse logistics. To make the world a better place, we need to give careful consideration to the resources we have and recycle them and this is exactly why Waste2Wear® has received the award."
All products / designers and concepts rewarded by the EESC jury for their outstanding performance on a European level receive the internationally valid signet of the EESC European Award for excellent design and/or sustainability. This respected distinction can now appear on all Waste2Wear® advertising and promotional activities, throughout Europe and internationally.
Furthermore, the winning products and concepts will be displayed in a dedicated area at the most significant, international consumer goods fair – Tendence in Frankfurt.