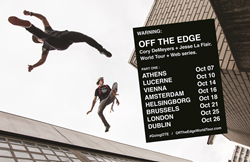 Los Angeles, CA (PRWEB) October 03, 2014
Pro freerunners Jesse La Flair and Cory DeMeyers launch their world tour and webseries "Off the Edge" at the Red Bull Art of Motion on Saturday, October 4, 2014. After defending their titles for "Best Trick" and "World Champion" at the competition in Santorini, Greece, La Flair and DeMeyers head to Athens for the World Premiere of their Parkour documentary "From Here to There" on October 7th, 2014 at the Mikrokosmos theater. For more information, please visit Off The Edge website.
La Flair and DeMeyers are touring to seven additional cities in Europe to complete the first leg of the Off The Edge World Tour. The cities include Lucerne, Switzerland on October 10, Vienna, Austria on October 14, Amsterdam, Netherlands on October 16, Helsingborg, Sweden on October 18, Brussels, Belgium on October 21, London, England on October 25, and Dublin, Ireland on October 26. Giles Longley at Visive Productions is directing the first season of the Off the Edge webseries, to air weekly on La Flair's YouTube Channel starting October 9, 2014.
From Here to There is the first feature length documentary about the culture and sport of freerunning and Parkour. The story follows La Flair and DeMeyers as they aspire to become top athletes in the fastest growing action sport in the world. The film was written and edited by Carol Martori (WAITING FOR LIGHTNING) and produced by J. Zakira Wise (RUN). Screenings in the United States and Canada begin on March 24, 2015 and screenings in Asia, Africa, Australia, and South America begin in Summer 2015.
"Nobody has ever done anything like this," says DeMeyers. "This tour is the biggest thing this sport has ever seen."