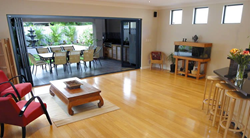 (PRWEB) October 02, 2014
BamboofloorChina.com is a distinguished bamboo product manufacturer and retailer. Plenty of its products have won great appreciation from the global customers in the past few years. Now, the company is working hard to make more excellent items. All its online workers are professional and patient; they are ready to help all clients.
The company has recently added a new assortment of bamboo panels to its website. Furthermore, the company's marketing specialist has announced that all these brand new items are available at discounted rates, from 10 to 30 percent off.
BamboofloorChina.com is known as a trustworthy supplier in the global market; it is now providing numerous elegant items for its new and old clients. Its hot products include floors, panels, mats, decks and plywoods. In addition, its website is a convenient platform for worldwide people to order what they like.
"We are happy to unveil our new and great bamboo panels. Also, we are excited to launch the current special offer. This promotion will last unveil October 20. It is worthy to mention that the cheap products are made with natural materials; they feature exquisite workmanship and elegant looks. We hope to offer worldwide clients the best products and services. You can visit our website for more details (http://www.bamboofloorchina.com)," the marketing specialist says.
About BamboofloorChina.com
BamboofloorChina.com is an experienced manufacturer and retailer of elegant bamboo products. The company is offering a wide variety of useful items for its clients, including plywoods, strand woven floorings, lumbers, outdoor deckings and fences. The supplier hopes to facilitate worldwide people by providing all kinds of high quality bamboo items.
For more details about the company and its new items, customers can visit: http://www.bamboofloorchina.com/products/product-type-BambooPanels.html.