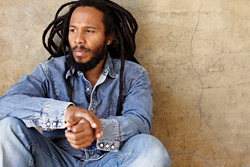 Fairfield, CT (PRWEB) October 02, 2014
Fairfield Theatre Company welcomes reggae star Ziggy Marley to the Klein Auditorium at 8 p.m. on Oct. 12.
As the eldest son of legendary reggae artist Bob Marley, Ziggy Marley is the heir apparent to his father's iconic legacy. With a total of four Grammys as an artist, Marley has taken quite naturally to the throne left vacant by his father's untimely death in 1981. Along with backing band the Melody Makers, a unit comprised of his brothers and sisters, Marley has successfully carried on the tradition of reggae, communicating the music's message of peace to a growing global audience. With a life story that is filled with changes and transitions, Marley has been guided by the keen awareness and driving compassion which are the hallmarks of his work.
Marley wasn't even 17 when he and the Melody Makers issued their EMI debut LP, "Play the Game Right." Looking and sounding eerily like his father, Marley quickly learned the burdens of becoming a second-generation star. He brought a new pop sound to the reggae culture which resulted in derision from reggae purists. Poor sales, combined with EMI's public desire to market Marley as a solo act, forced Marley & the Melody Makers to jump to the Virgin label, where they entered the studio and recorded 1988's masterpiece, "Conscious Party," produced by Talking Heads' founding members Chris Frantz and Tina Weymouth. The album was both a critical and commercial smash success, with the single "Tomorrow People" reaching number 39 on the pop charts. The follow-up, 1989's "One Bright Day," continued the Melody Makers' artistic growth.
Marley makes his Klein Auditorium debut on the heels of his most recent appearance in Bridgeport at this year's Gathering of the Vibes, in support of his latest release, "Fly Rasta." "Fly Rasta" presents a wide-ranging knowledge of roots and culture, as well as some of the funk, soul, rock and pop know-how for which Marley is known. With a conscious lyrical focus which is paired with strong and memorable melodies, Marley's newest release demonstrates that reggae can grow and adapt without losing sight of its roots.
Come join the Fairfield Theatre Company as they welcome the reggae legend-in-the-making, Ziggy Marley, to the Klein Auditorium as he continues to follow in his father's footsteps as the face of a musical movement.
Ziggy Marley
Date: Sunday, Oct. 12
Doors: 7 p.m.
Show: 8 p.m.
Venue: The Klein 991 Fairfield Ave. Bridgeport CT 06604
Tickets: $35 -$45 advance, Member Discount: $5
Buy online: http://www.fairfieldtheatre.org
About the company:
Fairfield Theatre Company is a highly-acclaimed non-profit performing arts organization located in the heart of downtown Fairfield, Connecticut. FTC presents nearly 250 performances and concerts each year featuring outstanding national talent on FTC's StageOne in Fairfield, The Klein Auditorium in Bridgeport, and the Norwalk Concert Hall in Norwalk. FTC's intimate 200-seat StageOne concert venue is widely recognized as being one of the best places to see a live performance in the region. FTC is dedicated to providing the highest-quality arts, live entertainment and educational experiences to the communities it serves.