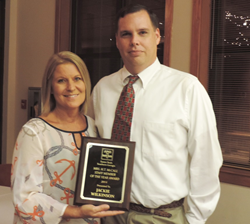 We can't be the organization we want to be and provide the excellent services without great staff, a visionary board of directors and people in the community who really believe in what we do.
Albany, Ga (PRWEB) October 04, 2014
Easter Seals Southern Georgia's Annual Awards Reception was held Monday September 29th, at Chehaw Educational and Conference Center. The key note speaker was Frank Berry, Commissioner of the Georgia Department of Behavior Health and Developmental Disabilities (DBHDD). Commissioner Berry shared several stories of individuals with disabilities that he has encountered while serving as commissioner.
Easter Seals Southern Georgia also unveiled their exciting new promotional video showcasing their Vocational, Day Solutions, and Residential programs. Highlighted in the video are individuals living with disabilities, direct care professionals and board members.
Easter Seals Southern Georgia board members who were recognized for 12 or more years of service were Dave Orlowski, Lauren Watson, David Prisant and Kenneth Cutts. Distinguished Service Awards were given to Commissioner Frank Berry, Viper Unit Motorcycle Club, Jim Matney with Colquitt Regional Hospital, Juana Fletcher with Vocational Rehabilitation Services, Tiffany Koffie Support Coordinator for PCSA, Ben Wallace and Shannon Williams with Master Foods. Jackie Wilkinson was awarded the Mrs. H.T. McCall Staff Member of the Year and Dave Orlowski was awarded Betty Nichols Volunteer of the Year. The Bobbie Myer von Bremen Lifetime Volunteer Award was accepted by Wayne Hollomon in memory of his wife Carol.
Easter Seals Southern Georgia provides exceptional services to ensure that all people living with disabilities or special needs and their families have equal opportunities to live, learn, work and play in our communities. There are 56 counties served in the south Georgia area and 20 counties served in the north Florida area. For more information visit our website at http://www.easterseals.com/southerngeorgia/ or call 229-439-7061.