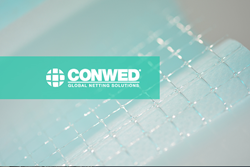 Minneapolis, Minnesota (PRWEB) October 02, 2014
Conwed, the leading plastic netting manufacturer in the world, will share its latest product innovations at the IFAI Advanced Textiles Expo in Minneapolis, MN (Booth #A2612 - October 13-16, 2014). Organized by the Industrial Fabrics Association International (IFAI), this event was formerly known as IFAI Expo Americas and subsequently Specialty Fabrics Expo. The growth and demand for advanced textile applications led IFAI to establish the Advanced Textiles Expo, held in tandem with Specialty Fabrics Expo.
Conwed netting is an essential component in hundreds of industrial and consumer products worldwide. "We'd like to create awareness in the fabrics and textiles industry about the unique reinforcement and lamination capabilities our netting portfolio can bring to their products" said Ivan Soltero, Strategic Marketing Manager at Conwed.
Among the products highlighted at IFAI Advanced Textiles Expo, attendees will find co-extrusion, bi-component and elastomeric netting configurations. Co-extrusion is a multi-layer extruded netting than can be subsequently oriented where different polymers can form different layers on the same netting configuration. It is a square netting construction and Conwed has the ability to build netting with A/B, A/B/A, and A/B/C layer combinations. "Conwed is able to create netting configurations that enable lamination and bonding with many different materials and substrates. Our team strives to customize chemical formulations that help create composites with other substrates such as film, paper, foam, nonwoven and other fabrics", said Soltero.
Bi-component is a netting configuration with different polymers in opposite directions. Customers can customize the machine or cross direction of the netting depending on the final application. It is often used in composites as it provides stretch, reinforcement and adhesive capabilities for disposable consumer products. "Bi-component is very useful for creating composites with different performance targets in opposite directions of the net. As an example, one direction could include an elastomer while the opposite direction could be polypropylene. This would create a web that stretches in only one direction and provides stability in the other. Therapeutic wraps and bandages would benefit from this combined performance", said Soltero.
Conwed will also showcase its proprietary Rebound® elastomeric netting. It is an ideal alternative to other stretch materials such as films, spandex and stretchable nonwovens. From adult incontinence underwear and training pants to therapeutic wraps, bandages and wipes, Rebound® provides breathable stretchability in one or both directions of the net. "Our elastomeric netting portfolio is in constant evolution. It presents endless possibilities to clothing and apparel companies looking to add breathable stretchability to their product designs". Widely known in the disposable consumer products industry, Conwed still has yet to develop a presence in the fabrics and textiles industry. "We believe there is significant potential for apparel and textile companies to explore the added value we can bring incorporating plastic netting into their products. Our R&D and engineering teams have an open mindset when exploring unusual, untested applications so we encourage our prospects to share their product development challenges" said Soltero.
For a complete guide of how plastic netting is made and how it can be incorporated with other materials please visit the Plastic Netting 101 section at http://www.conwedplastics.com.
About CONWED
Conwed is the leading plastic netting manufacturer in the world. Conwed manufactures extruded, oriented and knitted netting with unique customization capabilities. Headquartered in Minneapolis, Minnesota, Conwed has five manufacturing locations on two continents and a global distribution network.