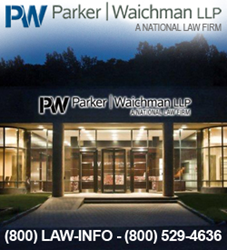 "There have been mounting safety concerns over the risks of testosterone replacement products," said Gary Falkowitz, Managing Attorney at Parker Waichman LLP.
Port Washington, New York (PRWEB) October 09, 2014
Parker Waichman LLP, a national law firm dedicated to protecting the rights of victims injured by defective drugs and medical devices, comments on a lawsuit filed on September 29, 2014 against Eli Lilly over its testosterone replacement drug Axiron (Miller v. Lilly USA, Inc. et al, Case No. 2:2014cv06039 in the Third Circuit of New Jersey District Court). The federal lawsuit was filed on behalf of a man who took Axiron in September 2012 and subsequently suffered a heart attack on October 3, 2012. Lawsuit allegations include that Eli Lilly never warned about the increased risk of stroke and heart attack with Axiron and that, if the plaintiff's doctor had been fully informed about Axiron's potential dangers, he never would have prescribed the drug.
Lilly's strategy for marketing Axiron involves describing symptoms of Low-T, which includes decreased sexual desire, erectile dysfunction (ED), fatigue, depressed mood, decreased strength, a decreasing need to shave, and osteoporosis, the suit alleges. Also according to the lawsuit, Low-T is a "non-existent and unrecognized medical condition" and the symptoms described are simply caused by normal aging or weight gain.
The lawsuit also points out that the U.S. Food and Drug Administration (FDA) has only approved testosterone products for hypogonadism, an endocrine disorder in which the body produces abnormally low levels of testosterone; they are not approved to treat Low-T as described by Eli Lilly. Despite this, the suit alleges that Lilly utilized a "disease awareness campaign" to notify men that they may be suffering from Low-T. According to the complaint, only six percent of men prescribed testosterone have been diagnosed with hypogonadism. The plaintiff is alleging the following: failure to warn, defective design, defective manufacturing, negligence, breach of implied warranty, breach of express warranty, fraud, and negligent misrepresentation.
Parker Waichman LLP notes that release of announcements by health regulators in the United States, Canada, and Europe, as well as research findings, have led to mounting lawsuits. For example, the FDA announced on January 31, 2014 that it began investigating the increased risk of stroke, heart attack, and death in testosterone product users. Similar investigations were launched by regulators in other countries, including the European Medicines Agency (EMA) (April 14, 2014) and Health Canada July 15, 2014. The reviews were sparked by two studies showing an increased risk of cardiovascular events with the use of testosterone replacement products. On November 6, 2013, a study published in the Journal of the American Medical Association (JAMA) found that older men were more likely to suffer from heart attack if they took testosterone. Another study published in PloS (Public Library of Science) on January 29, 2014 showed an increased risk of heart attack in older men and younger men with a pre-existing heart condition.
According to Parker Waichman LLP, testosterone lawsuits have also been on the rise ever since the drugs have been linked to an increased risk of stroke, "There have been mounting safety concerns over the risks of testosterone replacement products," said Gary Falkowitz, Managing Attorney at Parker Waichman LLP. "Although testosterone drugs are often marketed as a way to treat 'Low-T,' the FDA has only approved these products for men who have been diagnosed with a medical condition that adversely impacts testicular function. So-called 'Low-T' is not a medical diagnosis."
If you or someone you know has used a Low T medication, you may have valuable legal rights. To discuss your case with one of our lawyers, please view our Testosterone lawsuit website or call 1-800-LAW-INFO (1-800-529-4636).