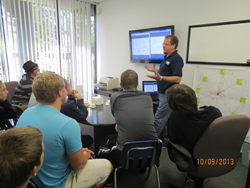 On National Manufacturing Day, SME, Sierra College and many organizations are hosting events to strengthen the industry and attract students to careers.
Rocklin, CA (PRWEB) October 03, 2014
As part of National Manufacturing Day on October 3, and throughout the month, over 15 activities have been planned by organizations in collaboration with SME Sacramento Valley and Sierra College Center for Applied Competitive Technologies(CACT).
Response has been great, according to SME Sacramento Valley president-elect, Jeff Briggs. "From student tours and open houses to industry training, there are many ways that organizations are strengthening the industry and manufacturers are inviting students to consider technical careers," said Briggs. "Some companies, such as TSI, Inc. and Avocet are even doing virtual tours."
For high school and college students, Schilling Robotics, Parallax Inc, B & M Racing and Kinova have arranged tours that will enable students to see the many career paths available in this industry. On Oct. 17, Sierra College CACT is hosting a Nontraditional Employment for Women (NEW) for 100 high school girls at the Rocklin campus, explained Carol Pepper-Kittredge, CACT Director.
"Organizations such as Intel, Golden Sierra Job Training Agency and California Community Colleges are sponsoring this event to connect to girls and inspire them to consider high wage manufacturing careers," said Pepper-Kittredge. "Parallax Inc., Union Pacific Railroad, AAUW, Valley IT Support, RuffStuff Specialties, SMUD and Sacramento Hacker Lab are also supporting this effort to show young women how they can make a difference as designers, engineers and technicians working in manufacturing."
For businesses, the Stockton Builder's Exchange is hosting tours throughout the month of October (call to schedule) and offering a special membership rate in October. The North State Grow Manufacturing Expo will be held on Oct 2 from 12 pm to 5 pm in California State University Chico's Bell Memorial Union. On October 3, Arrow Sign Company will host an open house and tour in Stockton, and Transfer Flow in Chico is hosting tours throughout the day. The Ray Morgan Tech Show will be held on Oct. 8 in Stockton. American System Controls & Integration is hosting an Open House on Oct 31 in Oakdale.
To help manufacturers and organizations use Lean tools to improve their processes, the Continuous Improvement Network with Institute for Quality Public Services, California Government Operations Agency and Sierra College CACT are hosting the Continuous Improvement Forum on October 7 in Sacramento with guest speakers Jeff Fuchs, Maryland World Class Consortia, Teresa Hay McMahon, Iowa Lean Consortium, and Jes Vargas, DPMG, Inc.
Other training opportunities include a Laserfiche Workshop and Users' Group in Roseville on October 15 hosted by Ray Morgan Company, and the SolidWorks 2015 Launch and Learn at Digital Dimensions on Oct. 21 in Roseville (free with RSVP). Gallina is offering a free Seminar on Tax Strategies for Manufacturers on Oct. 23 in Sacramento.
To find out more about these events, go to the SME Sacramento Valley website.
About SME
SME connects all those who are passionate about making things that improve our world. As a nonprofit organization, SME has served practitioners, companies, educators, government and communities across the manufacturing spectrum for more than 80 years. Through its strategic areas of events, media, membership, training and development, and the SME Education Foundation, SME is uniquely dedicated to advancing manufacturing by addressing both knowledge and skill needs for industry. The Sacramento Valley Chapter of SME offers tours, professional development and other resources to support members in achieving manufacturing excellence.
About Sierra College CACT
Sierra College Center for Applied Competitive Technologies (CACT) is focused on Advanced Manufacturing and is funded through the Workforce and Economic Development program of the California Community College Chancellor's Office. Since 1992, the Sierra College CACT has provided customized training for employers in lean, process improvement, zero waste, supervision, workplace software, communication and many other topics for organizations, manufacturers and technology companies throughout Northern California. For more information, contact Carol Pepper-Kittredge at training(at)sierracollege.edu or 916-660-7801.