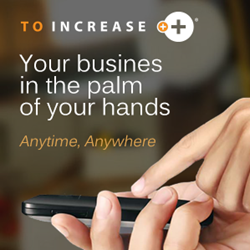 The rapid adoption of connected mobile devices combined with an ever-increasing need to have real-time information available anytime and anywhere, has created enormous demand in this sector. - Cornelis Bosch, To-Increase CEO
Veenendaal, Netherlands (PRWEB) October 03, 2014
To-Increase, one of the world's leading developers of industry, integration, and business productivity solutions, announced today that it will expand its solution portfolio to include a comprehensive suite of mobility solutions through purchase of software developer Dynamics Anywhere. Financial terms of the transaction were not disclosed.
"The rapid adoption of connected mobile devices combined with an ever-increasing need to have real-time information available anytime and anywhere, has created enormous demand in this sector. To-Increase already offers a collection of mobile solutions; the products from Dynamics Anywhere will help us take our portfolio to a new level," said Cornelis Bosch, To-Increase CEO.
Dynamics Anywhere solutions include a library of easy-to-use mobile software that caters to retail, manufacturing, field sales, services, and warehouse management. The solutions run on virtually any device with a browser, including tablets, rugged mobile terminals, and smartphones. This versatility offers freedom of choice and cost savings in supporting a mobile infrastructure remotely. Designed for Microsoft Dynamics AX and NAV, the solutions are based on familiar Microsoft products like Windows Server and IIS and do not use any third-party middleware to ease implementations and facilitate support.
"To-Increase and Dynamics Anywhere already enjoy a great deal of synergy," said Luciano Cunha, VP of Sales for To-Increase. "We have worked together for several years and already share trusted relationships with many of the same customers and support partners. We also share a common commitment to putting our customers' needs first and creating solutions that deliver exceptional business value right out of the box."
With more than 1,800 customers following the acquisition, To-Increase is well positioned to provide for the needs of Microsoft Dynamics customers and partners around the globe in the years to come.
About To-Increase
At To-Increase, teams of seasoned industry experts and creative technologists join to build business software solutions that help our customers operate more efficiently and sharpen their competitive edge. To-Increase dives deeply into the specialized needs of companies in the discrete manufacturing, construction, retail, and food sectors to create advanced software solutions capable of handling the issues they face every day. From traditional on-premise software to cloud apps designed for tablets and mobile devices, To-Increase solutions help companies master their unique requirements with standardized technology that is easy and economical to implement, maintain, and upgrade. As of 2014, more than 1,800 customers worldwide depend on industry, integration, and business productivity solutions from To-Increase. To learn more, visit http://www.to-increase.com or contact info(at)to-increase(dot)com.