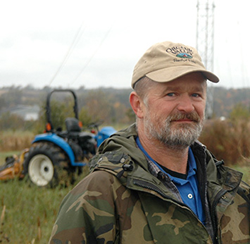 The workshop will address Restoration Agriculture and Keyline water management systems
Princeton, LA (PRWEB) October 02, 2014
Mahaffey Farms, a small, family-run farm located at 440 Mahaffey Road in Princeton, La., will host a three-day workshop on the topic of Restoration Agriculture, Nov. 14-16. The weekend-long series of lectures and presentations will feature author, farmer and CEO Mark Shephard. Shephard is the author of Restoration Agriculture: Real-World Permaculture for Farmers and runs New Forest Farm, the 106-acre perennial agriculture forest considered by many to be one of the most ambitious sustainable agriculture projects in the United States.
The workshop will address Restoration Agriculture and Keyline water management systems, and will focus on designing the water system for a farm scale perennial agricultural system. Topics explored will also include agroforestry and silvopasture systems.
Registration is now open for the workshop. Cost to attend Mark Shephard's "Introduction to Restoration Ag" presentation, which will be held, 4-7 p.m., Friday, Nov. 14, is $25. Cost to attend the entire weekend-long workshop is $350 and registration is limited to 40 spaces for the full weekend registration.
For farmers and other participants who are traveling from out of town to attend this event, a special block of rooms has been reserved at the Holiday Inn Express located just five miles from Mahaffey Farms at 7970 E. Texas Street in Bossier City. The group rate is $89 per night. To make reservations using this group rate, call (318) 841-9800 and mention "Restoration Ag workshop."
For more information, visit the Mahaffey Farms website at http://www.MahaffeyFarms.com or contact event organizer Evan McCommon at (318) 518-0558.