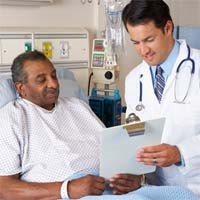 Advances in the field of malignant pleural mesothelioma are reliant on participation in clinical trials.
Raleigh, NC (PRWEB) October 04, 2014
Oncologists with the MD Anderson Cancer Center say the future of mesothelioma treatment is in the hands of patients who will agree to take part in clinical trials of new therapies. Surviving Mesothelioma has the full story on its website. Click here to read it now.
Radiation oncologist Dr. Daniel Gomez and medical oncologist Dr. Anne Tsao say clinical trial participation is critical for mesothelioma research to move beyond the limitation of current treatments.
"Advances in the field of malignant pleural mesothelioma are reliant on participation in clinical trials and identifying biomarkers that are predictive for response to systemic therapies and prognostic for survival benefit," they write in a newly published opinion article.
The article, published in Current Treatment Options in Oncology, also details what is now the "gold standard" tri-modality treatment approach for mesothelioma.
"Although the tri-modality approach to mesothelioma, including surgery, radiation, and chemotherapy has improved the survival odds for mesothelioma patients, the real promise for this disease lies in ongoing research, for which patient participation in critical," says Surviving Mesothelioma's Managing Editor, Alex Strauss.
Mesothelioma patients who want more information about clinical trial participation can click here to read Mesothelioma Patients Encouraged to Seek Out Clinical Trials, now available on the Surviving Mesothelioma website.
Gomez, D and Tsau, A, "Local and Systemic Therapies for Malignant Pleural Mesothelioma", September 30, 2014, Current Treatment Options in Oncology, Epub ahead of print, http://link.springer.com/article/10.1007/s11864-014-0314-4#page-2
For nearly ten years, Surviving Mesothelioma has brought readers the most important and ground-breaking news on the causes, diagnosis and treatment of mesothelioma. All Surviving Mesothelioma news is gathered and reported directly from the peer-reviewed medical literature. Written for patients and their loved ones, Surviving Mesothelioma news helps families make more informed decisions.