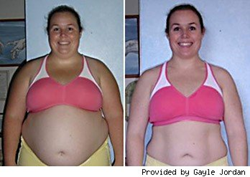 The nation is becoming more aware of the associated risks between carrying excess fat and diabetes.
Indianapolis, IN (PRWEB) October 03, 2014
With obesity reaching epidemic levels in the U.S., many people are becoming more mindful of what they eat. The nation is becoming more aware of the associated risks between carrying excess fat and diabetes. Experts agree that those who choose to make a lifestyle change by losing this excess fat, will not only look and feel better, but can significantly impact their quality of life, longevity and can actually prevent the onset of weight-related disease, including diabetes.
The pancreas, an oblong, flattened gland is nestled deep within the abdomen, sandwiched between the stomach and the spine. An integral part of the digestive system, this gland produces insulin that regulates glucose in the bloodstream. Overconsumption of fatty, processed foods, as well as carrying excess body fat, can cause the pancreas to become inflamed or overworked, limiting its ability to produce enough insulin to keep blood sugar levels in normal, healthy ranges. The body will then become insulin resistant, leading to diabetes. For this reason, Diet Doc has developed specialized diet plans that focus on helping people take control of their own health, lose excess weight and, actually, prevent diabetes.
After an initial online consultation with a Diet Doc physician, new patients will work with nutritionists to develop meal and snack plans that encourage the body to target and attack stored fat that has nestled itself comfortably around the internal organs. Diet Doc's prescription hormone diet treatments and exclusive diet pills and supplements may be recommended to speed the rate at which patients see fat melting from the hard to reach areas, such as the belly, underarms, hips, thighs and buttocks. Chromium Picolinate may also be added to the program to help stabilize blood sugar levels and assist insulin in the biochemical regulation of fat.
Nutritionists will work closely with each patient to design specialized diet plans that are interesting and easy to follow and that work flawlessly with the hormone diet treatments. Patients find the diet plans interesting because they incorporate a wide range of healthy and delicious food choices while the fast weight loss is motivational. Many patients can continue to enjoy some of their favorite foods while incorporating healthier, low fat foods to their menu that generate weight loss without reducing their energy levels. With the support and guidance of Diet Doc's nutritional experts, patients begin to take control of their health and become a part of their own weight loss solution.
Diet Doc has combined today's advanced science and medical understanding with their doctor-designed and medically supervised prescription hormone diet treatments and specialized diet plans and has helped people throughout the country lose excess fat, improve their overall general health and prevent diabetes.
Specialized diet plans are tailor made for all shapes and sizes and for those who are struggling to shed that final 10 pounds to those who must lose 100 pounds or more. Diet Doc encourages everyone who wants to improve their health, restore their figure and prevent diabetes to call the nation's leader in medical weight loss today.
About the Company:
Diet Doc Weight Loss is the nation's leader in medical, weight loss offering a full line of prescription medication, doctor, nurse and nutritional coaching support. For over a decade, Diet Doc has produced a sophisticated, doctor designed weight loss program that addresses each individual specific health need to promote fast, safe and long term weight loss.
Diet Doc Contact Information:
Providing care across the USA
Headquarters:
San Diego, CA
(888) 934-4451
Info@DietDoc.info
http://www.dietdoc.com
Twitter: https://twitter.com/DietDocMedical
Facebook: DietDocMedicalWeightLoss