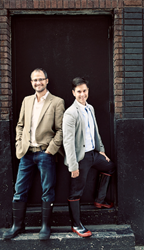 Salt Lake City, Utah (PRWEB) October 02, 2014
The 2014 Deseret News Fall Home Show opens its doors on Friday, October 10, 2014 for a weekend of interior design, home construction, autumn landscaping, and more. This year, in addition to the hundreds of vendors and industry experts onsite, four well-known national celebrity guests take the Design and Kitchen Stages for special presentations.
Brent Ridge and Josh Kilmer-Purcell from The Fabulous Beekman Boys on the Cooking Channel will be on the Kitchen Stage on Friday, Oct. 10 at 5 p.m. and Saturday, Oct. 11 at noon and 6 p.m. to share fall favorite recipes and highlight their experiences working and living on the Beekman Farm.
Additionally, Drew Levin and Danny Perkins from HGTV's Renovate to Rent will be on the Design Stage on Friday, Oct. 10 at 7 p.m., Saturday, Oct. 11 at 2 p.m. and 5 p.m., and Sunday, Oct. 12 at 1 p.m. to discuss the best approach to purchasing real estate and share insider advice on hiring a contractor for home renovation.
For the first time, the Fall Home Show hosts two design challenges highlighting Utah's most innovative and creative bloggers. During the Deck the Door challenge, 12 local design bloggers showcase their talents by decorating a door based on one month of the year. Also, the Fall Home Show introduces the Tabletop Masterpieces challenge. Six local design, DIY, and food bloggers have the opportunity to create stunning fall-themed tablesscapes with the help of several local kitchen and home décor sponsors. All challenge entries will be on display throughout the weekend at the Fall Home Show, and guests are encouraged to vote for their favorites.
Other special Home Show activities and appearances include a Bob the Builder™ Meet and Greet on Saturday, Oct. 11 at 11 a.m., 4 p.m., and 7 p.m. in the XFINITY booth, along with Kids Day crafting. Also, the Fall Home Show features one-of-a-kind pumpkin carving demonstrations by carving professional and artist Adam Smith.
About the Deseret News Fall Home Show
When:
Friday, Oct. 10 2 p.m.–9 p.m.
Saturday, Oct. 11 10 a.m.–9 p.m.
Sunday, Oct. 12 11 a.m.–6 p.m.
Where:
South Towne Exposition Center
9575 South State Street
Sandy, UT 84070
Admission:
Adults (at door) $10
Adults (online) $8
Seniors $7
Children 12 and under FREE
HERO Day
On Friday, Oct. 10, all active and retired military and first responders receive free entry into the Fall Home Show. To receive one complimentary ticket, simply show valid ID at the box office.
For more information, please visit http://www.saltlakehomeshow.com.
###