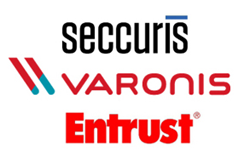 Speakers will discuss vital security issues, including the challenges of CISOs, protecting data, and threats to digital identities.
Winnipeg, MB (PRWEB) October 02, 2014
Security solution providers Seccuris, Entrust, and Varonis Systems, Inc. will co-host two security briefings in the Alberta, Canada cities of Edmonton and Calgary on October 21 and 23, respectively. The following event speakers will discuss vital security and operational issues facing today's enterprises, including the challenges of Chief Information Security Officers (CISO), protecting data, and threats to digital identities:

Tim McCreight of Seccuris, a former CISO for the government of Alberta, Canada, will share some of the security challenges he's faced, how he learned to overcome them, and best practices security professionals can follow when such challenges arise.
Ben Hui of Varonis will discuss how to reduce risk and improve compliance around the ever-growing challenge of protecting data.
Keith Lax of Entrust will outline significant threats to digital identities, and he'll present strategies and solutions for securing them across the enterprise.
There is no charge to attend the briefings, and guests will receive complimentary appetizers and beverages. The Edmonton briefing will be held on Oct. 21, 2014. To register, please visit http://conta.cc/1qgViXW. The Calgary briefing will be Oct. 23. To register, go to http://conta.cc/XMTM9u.
ABOUT SECCURIS
Since 1999, Seccuris has been helping clients with business-driven security solutions through consulting, risk management, and managed security services. Seccuris is the unique alternative because it assesses each client's security needs in relation to their entire enterprise, not just their technology, and then tailors a program that will help them make effective risk-based decisions at every level. Seccuris helps protect companies when and where they need it most. To learn more, visit seccuris.com.
ABOUT VARONIS SYSTEMS INC.
Varonis (NASDAQ: VRNS) is the leading provider of software solutions for unstructured, human-generated enterprise data. Varonis provides an innovative software platform that allows enterprises to map, analyze, manage and migrate their unstructured data. Varonis specializes in human-generated data, a type of unstructured data that includes an enterprise's spreadsheets, word processing documents, presentations, audio files, video files, emails, text messages and any other data created by employees. Visit them at varonis.com.
ABOUT ENTRUST, PART OF DATACARD GROUP
Entrust offers software authentication platforms that strengthen security in a wide range of identity and transaction ecosystems. Government agencies, financial institutions and other enterprises rely on Entrust solutions to strengthen trust and reduce complexity for consumers, citizens and employees. Now, as part of Datacard Group, Entrust offers an expanded portfolio of solutions across more than 150 countries. Together, Datacard Group and Entrust issue more than 10 million secure identities everyday, manage billions of secure transactions annually, and issue a majority of the world's financial cards. For more, call 888-690-2424, email entrust(at)entrust(dot)com or visit entrust.com.