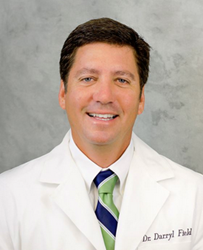 Jacksonville, FL (PRWEB) October 02, 2014
Periodontist, Dr. Darryl A. Field celebrates Dental Hygiene Month in October by educating patients about options for dental care in Jacksonville, FL. One service that few patients understand is the LANAP® protocol, a minimally invasive laser periodontal surgery. This treatment allows Dr. Field to improve his patients' oral health by treating periodontal, or gum, disease and saving the affected teeth. Only through treatments such as this can patients enjoy the oral health they deserve.
One of the problems with periodontal disease is that it progresses along the roots of teeth, leading to a condition called attachment loss. This occurs when oral bacteria cause the body to destroy the jaw bone and the gums to pull away from the teeth. As it worsens, pockets form between the teeth and the gum tissues. The LANAP® protocol is a laser periodontal surgery that arrests the disease. In order to perform the procedure, Dr. Field inserts a small laser probe into the pockets. This laser, called the PerioLase® MVP-7™, reaches the disease through the tiny probe without the need for cutting into the gums. It kills bacteria, eliminates diseased tissue, and stimulates the healthy tissue and bone. Dr. Field gently compresses the gum tissue against the tooth surfaces, which closes the pockets and leaves the patient with better oral health.
The fact that periodontal disease is painless in its early stages leaves many avoiding dental care in Jacksonville, FL. However, the disease can progress and lead to bone loss and eventual tooth loss, among other systemic health conditions. Dr. Field reminds people that the best way to maintain good oral health is to take care of problems early. Laser periodontal surgery is effective even after periodontal disease is advanced, but there is no reason to wait until the disease progresses before seeking help. The LANAP® protocol involves very little discomfort, making it something patients do not need to fear.
Anyone interested in learning more about the LANAP® protocol and other periodontal treatments may visit Dr. Field's website. Those who are looking for a periodontist for their dental care in Jacksonville, FL may also contact Dr. Field's office by phone.
About the Doctor
Darryl A. Field, DDS, PA, is a periodontist offering personalized dental care to patients in Jacksonville, FL since 1997. Dr. Field received his Doctor of Dental Degree and his certificate in Periodontics from LSU School of Dentistry. He is part of one percent of dental professionals providing the first FDA cleared laser procedure for gum disease and periodontal treatment. To learn more about Dr. Field and his dental services, visit his website at http://www.jaxdentalhealth.com and call 904-201-8293.