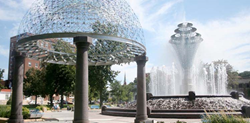 O&G works with suppliers and customers in many ways.
(PRWEB) October 07, 2014
We are pleased that Coldspring has joined O&G's vast network of quality suppliers, the news was announced today by Robert Rizzo Assistant Vice President with O&G Industries.
"O&G's supplier partners are a vital component in the success of O&G's masonry products business," stated Rizzo. Strong relationships lead to growth and success – for suppliers, customers, shareholders and O&G associates.
"We are excited about the partnership with O&G and the opportunity to extend our brand within their Connecticut distribution channel, " remarked Kathy Spanier, Director of Marketing with Coldspring.
O&G's team of sales professionals work with suppliers and customers in many ways, including guiding architects to products and materials that will meet and exceed their project requirements. Connecting masons, general contractors, landscapers and builders with the latest products available. Advising homeowners and interior designers of the latest products available while they visit Earth Products Showcase beautiful showrooms. In addition, O&G often looks for suppliers that offer the latest trends to satisfy consumer demands. O&G provides a valuable link from one end of the construction industry to the other.
About Coldspring
From natural stone and bronze to industrial and diamond tooling products, Coldspring has been serving the architectural, memorial, residential and industrial markets for more than 116 years. Headquartered in Cold Spring, Minn., the company has multiple facilities across the country, including 30 quarries, five fabrication locations and a bronze foundry. They employ more than 800 employees throughout North America. To learn more about Coldspring, visit our website.
About O&G Industries Masonry Division
Since its inception in 1923, O&G has grown to become one of the largest and most diversified construction companies in the Northeast and one of the largest suppliers in New England of masonry products and services. Headquartered in Connecticut the company offers LEED© project solutions to achieve the highest masonry certification. O&G facilities include eight mason stores and nine stone-yards, six Earth Products Showcase showrooms, and a fabrication and distribution center all strategically located throughout Connecticut. Customers receive expert consultation from showroom sales professionals and our guided through the widest selection of natural stone and tile products of elegantly appointed vignettes from classic to contemporary in design. O&G's logistical coverage extends throughout the Northeast and beyond.
Navigate to O&G's website and social media pages where special offers, raffles, ideas, projects and the latest news are featured.