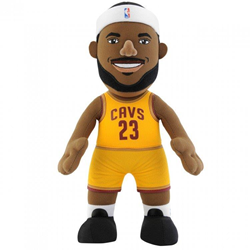 These plush are meant to inspire and entertain, and most of all, to let fans put their passion in play.
(PRWEB) October 02, 2014
Bleacher Creatures announced today the launch of the 2014 NBA player plush collection, which includes some of the most popular players on the court today. Each of the incredibly true-to-life 10-inch plush toys retails for $19.99 and will be available today at NBA stadium stores and at bleachercreatures.com.
"Being huge sports fans ourselves, we at Bleacher Creatures are delighted to give fans the chance to carry their enthusiasm for the game into their daily lives," said Matthew Hoffman, founder of Bleacher Creatures. "These plush are meant to inspire and entertain, and most of all, to let fans put their passion in play."
Designed for fans of all ages, the new line of NBA plush characters features some of basketball's greatest current players, including LeBron James (Cleveland Cavaliers, available in white, maroon, and gold jerseys), Dwight Howard (Houston Rockets), Michael Carter-Williams (Philadelphia 76ers), Kyrie Irving (Cleveland Cavaliers), Paul George (Indiana Pacers), and Carmelo Anthony (New York Knicks).
Players returning to the Bleacher Creature line-up with new jerseys include Damian Lillard (Portland Trail Blazers), Russell Westbrook and Kevin Durant (Oklahoma City Thunder), Steph Curry (Golden State Warriors), and Dwyane Wade (Miami Heat).
The Bleacher Creatures line will expand to include a handful of NBA Legends—including Larry Bird (Boston Celtics), Magic Johnson (Los Angeles Lakers), Julius Erving (Philadelphia 76ers), Dominique Wilkins (Atlanta Hawks), John Stockton (Utah Jazz), Karl Malone (Utah Jazz), and many other greats of the game.
###
ABOUT BLEACHER CREATURES
Bleacher Creatures is an innovative licensing manufacturer that produces a variety of children's toys through partnerships with professional sports leagues and entertainment companies. Bleacher Creatures are incredibly true-to-life plush figures of the greatest athletes and entertainment icons, allowing young fans (those who are young at heart) to put their passion in play. Bleacher Creatures' goal: to encourage fun, inspiration and, of course, play among fans of any age.
LIST OF 2014 NBA PLAYER BLEACHER CREATURE PLUSH FIGURES
New NBA Bleacher Creatures:

Cleveland Cavaliers: Kyrie Irving, LeBron James (white, maroon, gold jerseys)
Houston Rockets: Dwight Howard
Indiana Pacers: Paul George
New York Knicks: Carmelo Anthony
Philadelphia 76ers: Michael Carter-Williams
NBA Hardwood Classics:
Atlanta Hawks: Dominique Wilkins
Boston Celtics: Larry Bird
Los Angeles Lakers: Magic Johnson
Philadelphia 76ers: Julius Erving
Utah Jazz: John Stockton
Utah Jazz: Karl Malone
NBA Players already with a plush, with new jersey color
Golden State Warriors: Steph Curry (blue jersey)
Miami Heat: Dwyane Wade (black jersey)
Oklahoma City Thunder: Kevin Durant, Russell Westbrook (white jersey)
Portland Trailblazers: Damian Lillard (red jersey)