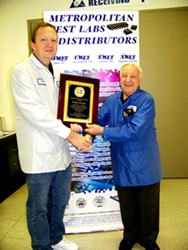 Clifton, NJ (PRWEB) October 03, 2014
Joseph Federico, VP and Director of NJ MET Inc. of NJ, announced the celebration of Tom Farinella's 35th anniversary of employment with the company.
Mr. Farinella came on board in September, 1979 as a Process Operator and moved into the NJ MET, Inc. testing department, working with digital, linear, large scale integrated circuitry as well as semiconductor and passive devices. Today, Tom is NJ MET's Test Engineering Manager, overseeing the semiconductor and calibration departments as well as maintaining employee process test records.
"Tom is the true example of commitment and dedication in our laboratory. It has been a pleasure working with him for many years. He is a fine man and a great colleague," said Joseph Federico from NJ MET's NJ headquarters.
"It has been a sincere pleasure working with Tom. He is a detailed, hard worker, with a lot of integrity," added NJ MET Director of Engineering, John Lauermann.
Thomas was presented with a commendation plaque congratulating him on 35 years of loyalty and friendship at a luncheon in his honor which was celebrated by his fellow employees.
For more information on NJ MET Inc., and their electronic test laboratory capabilities including the Mission Imposter® Risk Mitigation Program, please call Joseph Federico at NJ MET's headquarters in NJ @ 973-546-5393. Learn more about all of NJ MET's testing capabilities by visiting the NJ MET website.