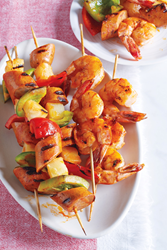 I recognized the need for a cookbook that makes it easy for the home cook to quickly prepare gluten-free meals, says Fenster, author of 100 Best Quick Gluten-Free Meals.
Denver, CO (PRWEB) October 07, 2014
Carol Fenster, a pioneering expert in gluten-free cooking, helps families prepare speedy meals with a new cookbook 100 Best Quick Gluten-Free Recipes (Houghton Mifflin Harcourt, October, 2014) featuring recipes that can be prepared in less than 30 minutes.
Fenster believes that cooking our own gluten-free food can be fun, delicious, and easy…but she understands how today's busy lifestyle doesn't leave much time for food preparation. "The number one question that gluten-free cooks ask me is how to shorten their time in the kitchen," says Fenster.
"Given these requests, I recognized the need for a cookbook that makes it easy for the home cook to quickly prepare gluten-free meals," says Fenster. So, the new cookbook explains how to shop wisely with a plan to select gluten-free ingredients from an ever-growing product shelf, how to save time in baking and cooking, and how to master basic gluten-free cooking techniques—such as baking delicious breads more quickly or rolling pizza dough more easily—all with simple instructions that offer time-saving tips along the way.
Fenster organized the recipes around several time-saving principles, including one that appears often in her new book: use a few boldly flavored ingredients rather than several, less intensely flavored choices. This often means using store-bought ingredients. "Now that the Food and Drug Administration (FDA) has defined 'gluten-free' we can use ingredient labels with confidence to choose store-bought foods that are safe rather than preparing everything from scratch—which takes so much time," she says.
One of Fenster's favorite quick recipes based on her principle of using a few carefully-selected and boldly-flavored ingredients is Shrimp, Sausage, and Pineapple Skewers. In this quick-to-assemble recipe, andouille sausage chunks line up with shrimp, pineapple, and bell pepper on skewers. Then, during grilling, everything is brushed with a store-bought (but gluten-free) chile sauce that adds bold flavor and spice—with minimal effort.
"Of course," Fenster says, "you could make your own chili sauce at home but using a safe, store-bought version shaves precious time from meal preparation." She adds that andouille sausage (which can also be made at home, but is readily available in stores in gluten-free form) is packed with flavor and contrasts nicely with the more mild-flavored shrimp and bell peppers. Pineapple chunks lend a delicious sweetness that complements the savory spices in the sausage and chili sauce.
Fenster's book contains 100 recipes with color photos to show how the finished dish looks, and each recipe offers nutrient content and indicates whether the dish is vegetarian. A set of creative menus shows how to combine entrees, sides, and desserts for a variety of different meals so everything looks good and tastes good together. 100 Best Quick Gluten-Free Recipes is Fenster's 12th cookbook and is available at Amazon, Barnes&Noble, and the publisher Houghton Mifflin Harcourt.
This new book joins Fenster's other award-winning cookbooks— Gluten-Free 101, 1,000 Gluten-Free Recipes and 100 Best Gluten-Free Recipes, all from Houghton Mifflin Harcourt.