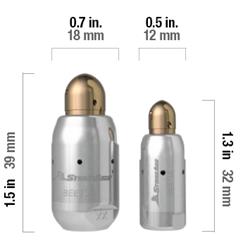 Lines are draining like no one has seen in over 20 years
(PRWEB) October 03, 2014
The StoneAge Banshee line of rotary nozzles has been an industry standard for tube cleaning applications for almost a decade. Banshee tools are proven to effectively remove thin, hard scale, carbons, coke, and polymers from conduit tubing.
The powerful technology behind these elegant tools is a patented liquid bearing that replaces the ball bearings, seals or lubricant used in conventional rotary tools. Besides producing powerful high speed rotation, the liquid bearing greatly diminishes cost of ownership by reducing maintenance requirements. Unlike labyrinth seal and cross jet pattern nozzles, the Banshee tool design features a streamlined internal flow path to deliver water to the jets with the least amount of turbulence and highest quality jet power for superior cleaning.
Now the same powerful features that make Banshee tools ideal for unplugging, cleaning and polishing tubes such as those found in industrial heat exchangers and evaporators have been packed into the smallest Banshee tools ever engineered — the Banshee Beetle. The shorter length of the Beetle models makes them ideal for cleaning process piping, drain lines, u-tube bundles and other small ID tubes with bends and elbows that may have been inaccessible in the past.
LaPlace Equipment Company in LaPlace, LA took part in field testing the Banshee Beetle tools prior to their market release. After 48 hours on a drain line cleaning operation, LaPlace's customer was very pleased with the results. "He has been able to clean lines that in the past he was only able to poke holes in," they reported, "lines are draining like no one has seen in over 20 years"
The Beetle easily pairs with automated flex lancing systems to provide a fully automated solution for pipe and tube cleaning as well as no-entry applications such as cleaning radial tubes found in mud drums of package boilers.
For more information and tool specifications, visit http://www.stoneagetools.com/banshee or call 1-970-259-2869 or TOLL FREE 1-866-795-1586