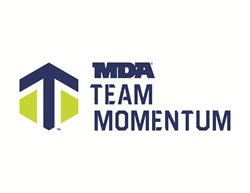 CHICAGO, (PRWEB) October 02, 2014
The Muscular Dystrophy Association's new nationwide endurance program MDA Team Momentum will take huge strides in the fight for muscle health at the 2014 Bank of America Chicago Marathon on Sunday, Oct. 12 to help support MDA's mission to save and improve lives of people fighting muscle disease.
The 37th annual Bank of America Chicago Marathon is MDA Team Momentum's inaugural full marathon event, featuring 15 teams and 133 participants dedicated to raising funds and awareness to help support individuals and families served by MDA.
MDA Team Momentum offers a unique experience for endurance enthusiasts and first-time runners and walkers alike. It's an opportunity to fight back against life-threatening muscle disease while getting fit and having fun. Many of the participants also have unique, personal connections to the fight against muscle disease. (Click here to see why some participants are participating with MDA Team Momentum.)
"Many of our Team Momentum members are participating to not only make a difference in the lives of MDA families across the nation, but often because someone close to them is battling a life-threatening muscle disease and running is a way to use their own strength to impact change," said MDA President and CEO Steven M. Derks. "Every stride that an MDA Team Momentum member takes, every mile logged during the Bank Of America Chicago Marathon, and every dollar raised will help MDA to continue making progress toward a world free of the harmful effects of muscle disease."
As a World Marathon Major with one of the flattest and fastest courses, the Bank of America Chicago Marathon is the peak of achievement for new and experienced runners and walkers alike. Those participating in the race through MDA Team Momentum are able to take full advantage of custom coaching, training and support to provide the ultimate race experience, with benefits that include world-class customized half or full marathon training for all levels and abilities and a community of support from teammates, volunteers, coaches and mentors.
Members receive invitations to exclusive social events, MDA Team Momentum training and training gear, and race-weekend VIP amenities, such as access to an MDA Team Momentum tent, gear check, and private changing areas. Importantly, participants have the opportunity to honor or remember a loved one affected by muscle disease.
MDA Team Momentum participated in its first event Sept. 14 at the Michelob ULTRA Boston 13.1 Marathon Series. The events raise funds to support MDA's world-renowned research efforts, life-changing health care services and community support programs, including MDA summer camp, and advocacy efforts that involve local communities.
To join MDA Team Momentum, or to learn more, visit MDAteam.org and like the MDA Team Momentum page on Facebook at facebook.com/MDATeamMomentum.
About MDA Team Momentum
MDA Team Momentum has secured inaugural charity partnerships for 2014 races, including the Michelob Ultra Boston 13.1 Marathon in Boston that took place on Sept. 14, the Bank of America Chicago Marathon, and the Marine Corps Marathon in Arlington, Va., on Oct. 26, 2014.
The MDA Team Momentum program gives beginners and endurance pros alike the opportunity to participate in an endurance race — a marathon or half marathon — and dedicate their efforts to the fight for muscle health. Offering world-class training, mentors, a solid community of support and inspiration every step of the way, MDA Team Momentum not only will change the lives of more than one million Americans affected by muscle disease, but also those of the walkers and runners who make every mile count for good.
Watch a special MDA Team Momentum video here to see the inspirational stories of those who have already joined the program.
The program provides in-person, group and online training, and support tailored for half marathon or full marathon races, while participants set fundraising goals for each race. MDA also will provide ample online resources, tips and suggestions to make reaching all fundraising goals easy, fun and successful. Recruitment for participants is currently underway in four key markets: Dallas, Boston, Washington, D.C., and Chicago. However, participants from around the world are encouraged to join the team.
The tagline for MDA Team Momentum is "Move Your Muscles. Strengthen Theirs." MDA strives to recruit runners through its existing programs, as well as through outreach to a whole new audience of supporters that can benefit from the program and enjoy the experience while providing help and hope to the families it serves.
About MDA
The Muscular Dystrophy Association is the world's leading nonprofit health agency dedicated to saving and improving the lives of people with muscle disease, including muscular dystrophy, amyotrophic lateral sclerosis (ALS) and other neuromuscular diseases. It does so by funding worldwide research to find treatments and cures; by providing comprehensive health care services and support to MDA families nationwide; and by rallying communities to fight back through advocacy, fundraising and local engagement.
Visit mda.org and follow us at facebook.com/MDAnational and @MDAnews. Learn more about MDA's mission by watching this video.