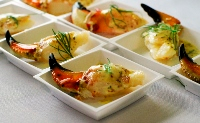 Portland, Maine (PRWEB) October 03, 2014
Portland's growing international reputation as a culinary destination will be on full display as Harvest on the Harbor, Maine's Food + Wine Festival, brings together premier chefs, vintners, and food & beverage producers for four delicious days, beginning October 22.
The Greater Portland Convention + Visitors Bureau (CVB), which organizes the event, hosted a launch party at Ocean Gateway on Portland's waterfront to announce participants in one of the festival's signature events, Lobster Chef of the Year, and to unveil new offerings taking place at venues around the city.
The CVB also announced that the Good Shepherd Food Bank Summer Meal Service Program will be the non-profit beneficiary of Harvest on the Harbor, with a portion of event proceeds going to fund the organization's work toward ending hunger in Maine. Together, we can solve hunger.
Maine Lobster Chef of the Year Competition
Ocean Gateway, Friday, October 24
Presented by the Maine Lobster Marketing Collaborative, this crowd favorite will feature a new, more interactive format as chefs vie for the coveted title of Maine Lobster Chef of the Year. Creative and craveable crustacean dishes will be paired with exceptional wines in the spectacular Ocean View Room at Ocean Gateway. Each chef's lobster bite will be judged in a blind judging competition. Judges include:
Chef Shannon Bard, Zapoteca
Chef Harding Lee Smith, The Rooms
Richard Grotton, Former President of the Maine Restaurant Association
Ginny Wright, Senior Editor, Down East Magazine
Competing chefs include:
Dwayne Whitelocke, Rocktide Inn & Restaurant, 2014 Claw Down Judges Choice Winner
Steve Richards, The World is Mine Oyster, 2014 Claw Down People's Choice Winner
Chris Long, Natalie's at Camden Harbour Inn, 2013 Maine Lobster Chef of the Year Winner
Brandon Blethen, Robert's Maine Grill
Isaac Aldrich, Sebasco Harbor Resort
Abby Freethy, Northwoods Gourmet Girl
Margaret McLellan, Sheepscot Harbour Village & Resort
Brandon Hicks, Prentice Hospitality Group
Luke Cordes, The Porthole Restaurant & Pub
Lindsay Bradeen – The Phat Boys Café 
The exciting Harvest on the Harbor events held in new venues include:
Harvest Dinner on the Stage NEW EVENT!
Merrill Auditorium, Wednesday, October 22
A select number of guests will experience an unforgettable evening on the stage at Merrill Auditorium. This prelude to the weekend's festivities is an exclusive dining experience featuring a locally sourced seven-course dinner, with each course prepared by a noteworthy chef and expertly paired with wine and spirits. Sommelier Erica Archer of Wine Wise will emcee the dinner, sharing her wisdom from the world of distinguished wines alongside Constellation Brands own experts.
A limited number of tickets are available for this event, with $25 of each ticket sold being donated to the Good Shepherd Food-Bank's Summer Meal Service Program, and students of Southern Maine Community College's culinary arts program will be assisting the chefs in preparing, plating and serving each course.
Participating chefs, listed in order of the courses they will prepare, include: David Turin, David's; Harding Lee Smith, The Rooms; Cara Stadler, Tao Yuan; Eric Flynn, Harraseeket Inn; Michelle Ragussis, Pearl on the Pier; Shannon Bard, Zapoteca; and Illma Lopez, Piccolo.
Some menu items include: magret duck and chicken boudin; red chile-dusted venison loin; Backyard Farms tequila-roasted tomato; and caramel budino to name just a few.
The Big Eat: Samplings at the Marketplace One & Two NEW VENUE!
Portland Company Complex, Saturday, October 25 (2 identical sessions)
This new event will bring together over 100 of Maine's elite food artisans, wineries, breweries, distilleries, and purveyors of Maine-made products. Guests will not leave hungry!
Other Harvest on the Harbor events include:

Grand Tasting on the Harbor October 23 at Ocean Gateway
Triple-B Barbeque: Brews. Booze. Blues. October 24 at Portland Company Complex
Down East Insider Series: Wine Experience October 24 at Ocean Gateway
Down East Insider Series: Beer Experience October 24 at Portland Company Complex
Harvest on the Harbor is coordinated by the Greater Portland Convention and Visitors Bureau
with the help from these generous sponsors:
Presenting Sponsors:
Down East Magazine, Portland Press Herald, WHOM/Townsquare Media , WPXT,WPME
Principal Sponsors:
Headlight Audio Visual, Constellation Brands, Portland Magazine, Ambience Event Services.
Premier Sponsors:
General Linen Service, Maine Lobster Marketing Collaborative, The Forecaster, Residence Inn by Marriott Downtown/Waterfront, Celebrity Cruises, Harmon's & Barton's Florists, Current Publishing, Party Plus Tent & Event Rentals, Native Maine Produce, Personal Touch Catering, Northeast Flavor magazine; American Lamb Board, The Phoenix, Pine State Trading Co, 360 Uncoated Marketing & Design, Coffee By Design, Vessel Services, City of Portland, Laurie Andrews Design, Funky Bow, MJ's Wine Bar, Wine Wise, Northeast Media Associates, Garbage to Garden, Cloth Connection, TWS Group, Inn by the Sea, Westin Portland Harborview Hotel, Hampton Inn, St. Killians, Yelp, 207 Taxi, Casco Bay Lines.
For a complete list of events, including dates and times, or to purchase tickets, visit http://www.harvestontheharbor.com.
Photos by Focus Photography