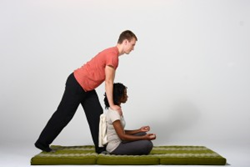 Los Angeles, California (PRWEB) October 02, 2014
YogaFit Training Systems is proud to announce that it will be a main distributor for Navina Thai Yoga Therapy. The style of Thai Yoga Massage is a mind-body-spirit practice that has roots in the ancient understanding of Ayurveda, and aligns perfectly with the ideals and culture of YogaFit. Navina is leading the industry and has developed a special "Thai Massage on the table" course that is both unique and invigorating.
Navina is a full service Thai Yoga Massage school. Its current core curriculum brings the wisdom of the East and blends it with the science of the West. Truly one-of-a-kind, the Navina approach brings modern relevance to an ancient art form.
One way Navina sets itself apart from the industry is its "Thai Massage on the Table" course. These types of massages are usually performed on the floor on padded mats; Navina adapts it to the table to make it even more versatile. It's a great addition to the skills of licensed massage therapists by allowing them to offer an entirely new service and provides them with access to a new clientele.
"Partnering with Navina was a no-brainer for YogaFit," says Beth Shaw, founder and president of YogaFit Training Systems. "Navina, just like YogaFit, uses ideas and concepts from both the East and the West. The foundation of YogaFit incorporates that exact same principle. I am excited to see where this will take us as a brand."
Navina is committed to becoming the leading Thai Yoga Massage School in the industry, and has developed a number of innovative programs. Each certification level is broken down into a system of modules, with each module being 3-days in length. This makes the training accessible to those with a busy schedule.
"We envisage an unparalleled 2000hr program built out within the next 5 years," explains Drew Hume, founder of Navina.
Navina hopes to show how each perspective of their Thai Massage Therapy program can complement one another to coalesce in a more complete picture of the body-mind-spirit, allowing practitioners and students to experience both the academic and intuitive sides of this incredible bodywork modality. The sky is the limit for Navina!
ABOUT YOGAFIT® TRAINING SYSTEMS WORLDWIDE
YogaFit® Training Systems Worldwide was established in 1994 and has since trained more than 250,000 yoga and fitness professionals worldwide. The leader in mind body fitness education, YogaFit® is the largest training school for yoga instructors in North America with further expansion ongoing internationally. Founder and President Beth Shaw is internationally recognized as the foremost authority on yoga and fitness and has been profiled in print publications and television programs including Oprah's O Magazine, CNN, The Wall Street Journal, The Huffington Post, The New York Times, USA Today, Entrepreneur, SELF and is currently a New Business Group Member of the New York Times. YogaFit® is committed to community service as well as supporting animals and humanitarian causes.
For more information on YogaFit®, please visit http://www.YogaFit.com.