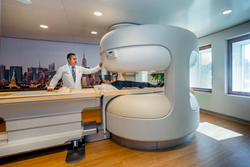 Bronx, NY (PRWEB) October 03, 2014
University Diagnostic Medical Imaging (UDMI), a leading full-service diagnostic radiology facility in the Bronx, announced today it is now offering its patients the latest generation in open magnetic resonance imaging system (MRI) which provides high-field image quality in a completely open design that improves the patient experience.
UDMI is the only private practice radiology facility in the New York Metropolitan Area offering the Philips Healthcare Panorama High Field 1 Tesla Open MRI, which features the widest patient opening of any high-field MR system creating an "MRI Without Walls".
"We are thrilled to now offer our patients access to this latest in state-of-the-art open MRI technology. Many patients, due to their size or feelings of claustrophobia, prefer open MRI systems. Physicians will appreciate the high-resolution images that allow the radiologists at UDMI to make more precise diagnoses," said Marc Prager, MD, Medical Director of UDMI.
"The Panorama High Field Open MR system we have installed offers an unprecedented combination of clinical excellence and patient acceptance. Getting this power in an open design provides us with a great deal of flexibility. We're able to accommodate more patients, give them a comfortable experience and get the most effective results from our work. This system is a tremendous diagnostic benefit to the communities we serve," said Daniel Gurell, MD, Associate Medical Director of UDMI.
Dr. Gurell said UDMI's new open MRI system is particularly well-suited for serving the Bronx, Westchester and Greater New York City community. "Our new high-field open MRI can accommodate body weights of up to 500 pounds," he noted. Further enhancing the patient experience, the new system has been installed in a specially designed light-filled room with windows and walls decorated with panoramic images of New York City.
"For us it's all about creating a patient friendly environment while offering patients and physicians the very latest technological advances in radiology. This new open MRI system represents a significant investment by our practice. We are committed to providing the highest quality diagnostic imaging by experienced, board-certified radiologists to our growing patient population in the Bronx and lower Westchester County," said Dr. Prager.
Founded in 1986, UDMI was the first full-service diagnostic radiology facility in the nation to earn all eight of the accreditations offered by the American College of Radiology. Independently owned and operated by radiologists, UDMI has built a reputation for excellence and professionalism with a staff of 80 employees and 7 full-time radiologists. Services include PET/CT scan, MRI, CT scan, Ultrasound, Nuclear Medicine, Breast Imaging, Osteoporosis Screening, Digital X-ray, Interventional Radiology and Pain Management. The practice serves approximately 300 patients a day. Its 20,000-square-foot radiology facility is conveniently located just off the Hutchinson River Parkway at 1200 Waters Place in the Hutchinson Metro Center.
For more information about UDMI's new High Field Open MRI, call (718) 931-5620 or visit http://www.udmi.net.
Photo caption: UDMI Administrative Technologist Tony DelliCarpini with patient and UDMI's new High Field 1 Tesla Open MRI