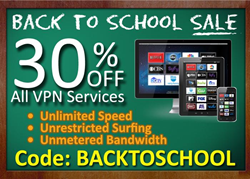 VPN for online privacy, security and freedom.
(PRWEB) October 03, 2014
School is back in session, but that doesn't mean you have to be disconnected from your favourite websites and TV shows. Give your Internet a boost and access your favourite content in any country, from any location. It even works behind campus firewalls and over WiFi in public hotspots.
We'd like to offer 30% off our VPN services, using the coupon code BACKTOSCHOOL, for our new customers as well as current customers who wish to renew their subscriptions.
With the use of HideMyTRAX VPN you will be able to access sites that are blocked for viewing in the country you live in or by the school you attend. You will be able to access sites such as:

Hulu for users outside of the United States
Different regions of Netflix for new content
Country-based TV content such as ABC, Fox, AMC, A&E, HGTV, and NBC
And this can all be done on up to two devices with a single subscription, regardless of what duration you choose to purchase.
Online privacy, open access, and anonymity are rights that every person should have in cyberspace. HideMyTRAX VPN is committed to ensuring these rights no matter what country you live in, what websites you frequent, or what campus you study on.
We offer a lightning fast solution to your online privacy, open access, and anonymity concern at a competitive price.