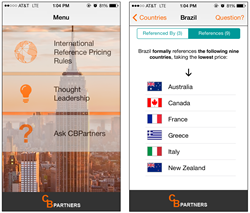 Our value is in the strategic guidance we provide to our clients – not data. That's why we decided on a free model.
New York City, NY (PRWEB) October 03, 2014
CBPartners, a global leader in consulting services to the life sciences industry, has released a ground-breaking new app. The eponymous CBPartners app, available through iTunes, offers users free centralised, mobile access to current international reference pricing rules in a convenient, visual user interface.
"As International Reference Pricing (IRP) presents increasingly complex challenges to today's healthcare stakeholders, the CBPartners iPhone app provides a user-friendly platform for accessing IRP rules when you need them most," says Theodore D. Schroeder, a CBPartners Pricing & Market Access specialist.
With years of experience providing strategic support to pharmaceutical companies, biopharmaceutical companies, medical device companies, and government health authorities, CBPartners is proud to present the CBPartners iPhone app. "International Reference Pricing rules are often treated as a trade secret," says CBPartners' Chief Executive Officer and CEO Cyrus Chowdhury. "Our app proves that it is how these rules are applied, not the data itself, that is the key to successful global pricing strategy. That's why we decided to go with a free model, and release this data to clients, competitors, and the general public. Our value is in the strategic guidance we provide to our clients – not data."
In addition to showcasing in-depth IRP rules for key markets spanning the EU, LatAm, Asia-Pac, Middle East, and other emerging markets, the CBPartners app details reference countries, referenced countries, referencing frequency, referencing formality, and referencing mechanisms. Live updates are added as new policies are defined and existing policies evolve. The app is available for download on Apple devices through iTunes, at http://bit.ly/CBPartnersApp .
"It's difficult to argue that anyone's IRP rule set is the correct one. Rules are unique to each product, and do evolve with time. The main advantage of our IRP rules delivered through the app is that they are updated on an ongoing basis. The user downloads the app once, and is forever updated on rule changes as our team of experts discover them through our engagement work," states Monica Martin de Bustamante, Managing Director at CBPartners.
The app also features an "Ask CBPartners" function, which connects users directly with the firm's pricing experts to further understand IRP rules and implications. In-app content includes CBPartners' thought leadership, such as CBPartners' latest white papers, blog posts, press releases, and live Twitter feed, which are all updated in real-time.
CBPartners continues to lead the industry in thought leadership on pharmaceutical and biopharmaceutical issues through its five practices. To learn more about the firm's perspectives and capabilities, please visit http://www.cbpartners.com.
About CBPartners
CBPartners is a leading global strategy consulting firm focusing on healthcare issues for a variety of clients, including biopharmaceutical companies, medical device companies and government health authorities. Headquartered in New York City, CBPartners maintains a continuous throughput of local market intelligence updates from advisors throughout over 75 markets. CBPartners provides expertise through five practice areas including Pricing and Market Access, Value Demonstration, Portfolio Optimisation, Commercial Planning, and Government Policy Advisory.