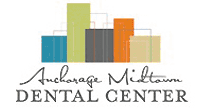 We wanted to give the office the tools it needed to better serve the patients.
Anchorage, AK (PRWEB) October 03, 2014
Anchorage Midtown Dental is offering their customers an upgraded experience in a facility that recently reopened after extensive renovations.
"We wanted to give the office the tools it needed to better serve the patients," said office spokesperson Amanda Rowe.
One of the major goals of the renovation was to bring all the technology up-to-date with the latest dental methods.
The office also now includes more operatory rooms so the staff can meet patient demand. "We don't want to say no to patients in pain, and we needed a bigger room count to take anyone who needs our services," Rowe said.
The renovation process was extensive, though it was done in phases so that patients could still come in to the office throughout construction.
The space had not been remodeled in 30 years, so the entire building was gutted, and an architect was hired to create a new design. The inspiration for the décor was the ocean, and the design was created to give patients the soothing feeling of being underwater.
Patients can also be more relaxed by enjoying big-screen TVs and Internet radio during their appointments, taking their minds off any procedures that might cause them anxiety.
The office celebrated the completion of construction and total reopening of the office over the summer, and Rowe says new patient feedback has been overwhelmingly positive.
Ultimately, Rowe says, the office's goal is to develop good long-term relationships with their patients.
"We love that it is family oriented," Rowe said. "We have built this facility to better equip ourselves to hear every patient's story so we have all the information to make the best decisions. This allows us to get involved on a much larger scale with our patients, and so far it is proving to be for the better," she concluded.
About Anchorage Midtown Dental
Anchorage Midtown Dental offers top quality dental services, including emergency dentistry, family dentistry, cosmetic dentistry, implants and more. The office strives to deliver a comfortable, stress-free treatment experience. To learn more, visit http://www.anchoragemidtowndental.com.