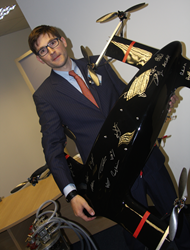 We will continue to develop the software control and enhance its responsiveness which forms one of the stepping stones for the company's aircraft project. The next stage will be to develop its alternative hybrid system and test it within a car environment
Romney Marsh, Kent (PRWEB UK) 3 October 2014
4x4 Aviation Ltd, based at London Ashford Airport, Lydd, successfully flew a scale model prototype of what is to become an innovative transport aircraft designed to carry 20" shipping containers.
At the company's invitation, the event was well attended by an extensive audience from a variety of different media channels. Prior to the test flight, the company's Founder and Director, Thorsten U. Reinhardt, presented the vision he has for the next 3 years. "We will continue to develop the software control and enhance its responsiveness which forms one of the stepping stones for the company's aircraft project. The next stage will be to develop its alternative hybrid system and test it within a car environment prior to installing it into a larger prototype version of the VV-Plane by next summer" Reinhardt said.
The energy on demand system is a critical component to making the VV-Plane not only fly but become commercially viable. This will be achieved through the company's technology portfolio that consists of an alternative combustion engine design that removes the need for a heavy crankshaft and allows efficiency levels of 55% immediately compared to todays 25%. Energy generated is stored in low cost and ingeniously designed pressure vessels that can distribute the energy to the aircrafts electric turbines very quickly. It allows the combustion engine to run at its optimum efficiency the majority of the time allowing for enormous fuel savings, which also translate into a massive reduction in CO2 emissions.
Reinhardt is now seeking £3.5m to commercialise the project, which is estimated to be in 3 years from now. He has invested more than £2m since 2004 to get to its current position.
About 4X4 Aviation
4X4 Aviation Ltd develops a hybrid electric aircraft with which it is striving to revolutionise the aviation industry by making Vertical Take Off and Landing (VTOL) flight commercially viable. The company's offices are located at London Ashford Airport's Innovation Centre. For more information about 4X4 Aviation's technology and products, contact Thorsten U. Reinhardt, at t.reinhardt(at)4x4aviation(dot)com or call +44(0) 1797 322 400.