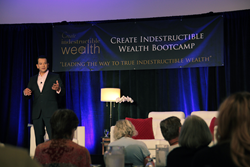 (PRWEB) October 03, 2014
On September 13th, 2014 at the Bi-Annual Create Indestructible Wealth 3-day Bootcamp, Paul Mata revealed that donations from the Create Indestructible Wealth Bootcamp attendees raised over $18,000 for the Unstoppable Foundation.
In order to sponsor a village, $25,000 was needed so Paul Mata of Logos Lifetime Enterprises generously donated the remaining money needed to help bring education, water, and other valuable resources to a village in Africa. 70 African children and their family's lives will change forever.
Cynthia Kersey, Founder of the Unstoppable Foundation, stated, "Education is more than reading, writing, and arithmetic. The Unstoppable Solution for Sustainable Education™ is based on the 5-Pillar development model that incorporates everything crucial to lifting communities from poverty and removing obstacles to educating children. This model recognizes that no problem and no solution stand alone. Each pillar provides vital support to facilitate and sustain community development. The Unstoppable Foundation's proven model not only builds schools, but provides the entire community with access to clean water and sanitation, food and nutrition, healthcare, and alternative income training for parents. The Sponsor a Village funding package for a village supports the construction of a schoolhouse plus the necessary tools to implement the five pillars crucial to lifting communities out of poverty. "
Paul Mata exclaimed, "The first thing I teach about in my Create Indestructible Wealth bootcamp is that in order to receive wealth you must first give some away. If your thoughts are in a place of abundance and serving you will be served and receive abundance – the opposite is also true. I purposely brought Cynthia Kersey in to help my clients make a mental shift from having a scarcity mindset to having an abundance mindset."
For more information about joining Paul at the next Create Indestructible Wealth bootcamp go to http://www.createindestructiblewealthbootcamp.com.
If you would like to learn more about how you can donate to the Unstoppable Fund, check out their website at: http://unstoppablefoundation.org/
About Logos Lifetime Enterprises
Logos Lifetime Enterprises mission is to help people lead an abundant and prosperous life with a passion to serve others. They help people of all ages and backgrounds lead better lives by helping them make, sustain, and protect their wealth in any economy.
Logos Lifetime University was founded as developed by Paul Mata who has over 20 years of experience working at a Wall Street Firm as a stock broker and managing principal. After creating more than nine successful companies, Mata decided to establish Logos Lifetime Enterprises in 2012 to teach people everything he learned about creating wealth. Author of the book Indestructible Wealth, Mata is the leading expert on creating holistic wealth. Today Mata focuses on helping people create indestructible wealth through his proprietary 12-step wealth creation system that incorporates growing people's financial assets, as well as their mental and physical assets so they can develop a wealth that can never be destroyed.
For more information visit http://www.CreateIndestructibleWealth.com, like LLE on Facebook and Follow LLE on Twitter.