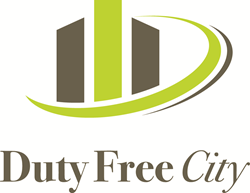 SAN DIEGO, CA (PRWEB) October 03, 2014
SAN DIEGO—THURSDAY, OCT. 2, 2014—Duty Free City, the world's first service-integrated retail destination for luxury brands along the US-Mexico border, will host its official Grand Opening event on Thursday, November 6, 2014 from 6-8:30 p.m., at its 14,000 square foot flagship store, located at 601 East San Ysidro Boulevard, San Diego, Calif. 92173.
"I am very excited to positively impact the future of luxury retail along the U.S. and Mexican Border and enable travelers and members of local communities to have an exceptional shopping experience," said Philippe Dray, CEO of Duty Free City, LLC, USA.
The event will include in-store promotions and a day filled with activities for adults and families to enjoy from 12-4 p.m, including hand-distributed cotton candy and popcorn, face painting, arts & crafts and much more. During the evening, from 6-8:30 p.m., guests are invited to walk the red carpet event and enjoy an exclusive Duty Free City experience, joined by fashion and beauty industry movers and shakers from California and Mexico. The lifestyle destination retailer will serve handcrafted hor d'oeuvres and a selection of wine and spirits against the store's sophisticated aesthetic, inspired by Spanish Colonial architecture. Entertainment will be provided by the world-renowned Gypsy Band, as well as other to-be-announced DJs. The first 50 guests to arrive will receive a gift bag with an assortment of luxury branded items complementary to Duty Free City.
About Duty Free City
Duty Free City is a lifestyle destination that inspires consumers to connect with their favorite brands through a luxurious, service-focused and interactive shopping experience. The company offers consumers an exceptionally crafted and elegant atmosphere, carrying designer accessories and beauty products, fragrances, leather goods, confectionary, wine and spirits and tobacco within its 14,000 square foot space. The store's talented salon experts and Men Shoppe associates offer guests unique one-on-one services on-site, including personal shopping, manicures, pedicures and hair styling. The store also provides children with an area designed just for them, as well as the convenience of valet parking.
Featuring the most sophisticated products in beauty and lifestyle, Duty Free City boasts an impressive brand portfolio, including the entire Estee Lauder Group (Clinique, Smashbox, etc.). Chosen as the only border store to carry its big name brands, Duty Free City offers a wide range of highly reputable products not seen in other border stores.
Duty Free City's concept is created by an executive team committed to elevating the quality and experience of duty free shopping while introducing contemporary and luxurious retail practices to the duty free industry. The company has plans to open stores in 2015 along with its aggressive expansion plan of 25 locations across the USA, including both the Mexico and Canadian borders.
Duty Free City is located at 601 East San Ysidro Boulevard, San Diego, Calif. 92173. For additional details on Duty Free City, visit: http://www.duty-free-city.com.
###