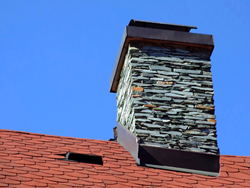 LINCOLN, R.I. (PRWEB) October 03, 2014
Proper chimney maintenance can help prevent fires in the home. That's why, as part of National Chimney Safety Week, Amica Insurance is sharing tips to help keep you and your family safe as the colder weather approaches.
The Chimney Safety Institute of America suggests the following:

Have a professional perform an inspection on the chimney's interior before using your fireplace, woodstove or furnace every year. That way, you can make sure it has not suffered damage that would allow heat or hazardous gases to enter the living space.
Keep the chimney clear and capped. Remove tree branches and leaves that are within 15 feet of the top of the chimney, as flames or sparks can jump from the fire source and ignite those objects.
Pick the right fuel. If burning firewood in fireplaces or woodstoves, choose well-seasoned wood that has been split for at least six months and was stored in an elevated, covered location.
Clear the hearth area, and remove all ashes. Be sure to keep furniture at least three feet away from the hearth, as combustible materials can catch fire if they get too close to the flames.
Install smoke detectors on every floor, and replace batteries in the spring and fall. When changing clocks for Daylight Savings Time, it's also a good time to check the batteries.
About Amica Insurance
Amica Mutual Insurance Co., the nation's oldest mutual insurer of automobiles, was founded in 1907. The company, based in Lincoln, Rhode Island, is a national writer of auto, home, marine and umbrella insurance. Life coverage is available through Amica Life Insurance Company, a wholly owned subsidiary. Amica employs more than 3,300 people in 43 offices across the country. For more information, visit Amica.com.
CONTACT: Vince Burks, Corporate Communications, 50 Amica Way, Lincoln, RI 02865-1155, 800-652-6422, ext. 24563
Twitter: Amica
Facebook: Amica Mutual Insurance Co.