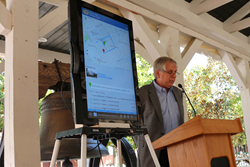 "This new digital walking tour will be yet another fantastic draw for visitors to Huntsville," Vice President of Tourism for the Huntsville/Madison County CVB Jennifer Moo
Huntsville, AL (PRWEB) October 06, 2014
The Huntsville/Madison County Convention & Visitors Bureau (CVB) in conjunction with the Huntsville History Collection announced today the launch of the free-to-use Huntsville History Tour: A Digital Guided Tour of Historic Huntsville, Alabama. With a mobile device, users can now discover downtown Huntsville's storied past online, on their own time. Covering 40 historic locations in the downtown Huntsville area, the tour provides narration, photos and information pertaining to each location. The voices behind the narration are Huntsvillians Jacque Reeves, John Malone and Nancy Rohr.
The Digital Huntsville History Tour can be found online at http://www.HuntsvilleHistoryTours.org.
"In the Rocket City, we have an abundance of offerings attractive to leisure travelers and meeting planners, and this new digital walking tour will be yet another fantastic draw," Vice President of Tourism for the Huntsville/Madison County CVB Jennifer Moore said. "Convenience is key, and that is one of the best features of the Huntsville History Tour. Folks can begin and end the tour on their own time and learn about Huntsville's compelling history along the way."
Deane Dayton, author of the Huntsville history website HuntsvilleHistoryCollection.org, created the Digital Huntsville History Tour on a mobile-friendly website using information compiled by the Huntsville/Madison County CVB and the Huntsville History Collection.
"The Digital Huntsville History Tour combines Huntsville's rich heritage in history and technology," Dayton said. "It allows anyone with a smart phone to explore Huntsville's historical sites on their own. The GPS capabilities, interactive map, audio narration and related photographs make the journey easy and accessible."
The Huntsville/Madison County Convention & Visitors Bureau will also be sponsoring free, guided fall walking tours of the Five Points Historic District on Saturday, October 4 and the Old Town Historic District, Saturday, October 11. More information is available at http://www.huntsville.org/walkingtours.
Jennifer Moore explained the new digital tour complements and even creates a synergistic cycle with existing in-person guided tours such as the fall walking tours.
"Huntsville and Madison County thrive when it comes to our tour offerings," Moore said. "From ghost tours to history, dining and brew tours, there is a comprehensive offering for visitors and residents alike. We hope the Digital Huntsville History Tour will add yet another layer of excitement to existing tour offerings and that folks will be so intrigued they will follow up the digital tour with an in-person guided tour. Nothing quite replaces being able to interact with and ask questions of a knowledgeable guide."
Deemed a Healthy Huntsville activity by the City of Huntsville, the Digital Huntsville History Tour can be enjoyed on foot or by car. Healthy Huntsville, a city and community-wide partnership, focuses on the core concepts of nutrition and exercise to encourage residents to embrace healthy lifestyles.
For more information, please contact Jessica Carlton, Marketing Manager at the Huntsville/Madison County CVB at jessica(at)huntsville(dot)org or by phone at 256.551.2294.
Be sure to connect with the Huntsville/Madison County CVB on Facebook and Twitter for updates on what's going on in Huntsville/Madison County, travel-related news and upcoming meeting and conference information.
About Huntsville/Madison County CVB
The Huntsville/Madison County Convention & Visitors Bureau (CVB) is a non-profit 501(c)(6) organization which was developed in 1970 to create economic growth for Huntsville/Madison County by marketing the city as a top-of-mind convention and visitor destination. As the official city/county agency which promotes the area as a tourist destination and convention site, the CVB partners with an array of hospitality industry partners to market our destination to visitors of all types.