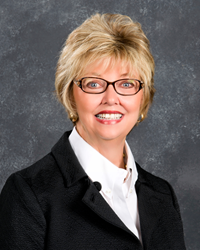 (PRWEB) October 03, 2014
On October 1, Carolina Farm Credit completed the 2014 director election by mail after receiving 514 ballots. Susie J. Gambill of Alleghany County was re- elected to serve a five year term.
Susie J. Gambill, 64, of Sparta, N.C. is a farmer and Clerk of Court for the state of North Carolina. Her family's farming operation, Gambill Farms, consists of dairy cattle, beef cattle, Christmas trees, hay, and silage. She holds bachelor's degrees in business and education from Appalachian State University. Gambill has been a member of the Carolina Farm Credit board since 2011 and also serves on the L&S Land Corporation board. She is a member of the Alleghany Christmas Tree Association, Blue Ridge Electric Community Leaders, Clerk of Courts Conference, Alleghany Agricultural Advisory Council, Alleghany North Carolina Cooperative Extension Advisory Council, and is a member and Sunday School teacher at First Baptist Church, Sparta, N.C.
Members elected to the 2015 nominating committee are: Donald R. Smart, Haywood County; Kevin E. Lutz, Lincoln County; Dennis T. Leamon, Iredell County; Robert H. Knox, III, Rowan County; Charles "Clifford" Elliott, Randolph County; and Sam I. Kiser, Jr., Alamance County.
On October 29th, the board will hold an organizational meeting to appoint committee members and elect the chairman and vice-chairman.
Carolina Farm Credit is a stockholder-owned cooperative providing financing to full and part-time farmers and agricultural-related businesses and also provides financing for the construction and purchase of homes in 54 counties through 36 branch offices. Other financial services available are credit life insurance, crop insurance, appraisal services, leasing programs and financial planning.
Carolina Farm Credit serves over 9,200 members with loans outstanding totaling more than $1.4 billion. The association's territory covers the western half of North Carolina, with branch offices located in Albemarle, Asheboro, Asheville, Boone, Browns Summit, Burnsville, Carthage, Concord, Conover, Ellerbe, Graham, Hendersonville, Hillsborough, Jefferson, Lenoir, Lexington, Lincolnton, Marshall, Mocksville, Monroe, Murphy, Pilot Mountain, Roxboro, Rural Hall, Salisbury, Shelby, Siler City, Sparta, Spindale, Statesville, Taylorsville, Wadesboro, Waynesville, Wilkesboro, Yadkinville, and Yanceyville.
Carolina Farm Credit was recognized as a 2013 Best Employer in North Carolina. The list of the Best Employers in North Carolina was created by Business North Carolina, the Society for Human Resource Management (SHRM) – NC State Council and Best Companies Group.
Directors for Carolina Farm Credit are Mark A. Bray, Chairman, Lawsonville; L. Kim Starnes, Vice-Chairman, Salisbury; John M. Barnard, Statesville; E. Bernard Beck, Seagrove; W. Rex Bell, Statesville; David M. Coltrane, Pleasant Garden; Susie J. Gambill, Sparta; Joseph A. Lail, Shelby; Bobby J. "Bud" Matthews, East Bend; Clark M. Newlin, Haw River; Thomas E. Porter, Jr., Concord; Tony L. Ragan, Sanford; D. Kaleb Rathbone, Waynesville; Lewis E. Smith, Lincolnton; Vickie N. Smitherman, East Bend; Dr. Alton Thompson, Summerfield.