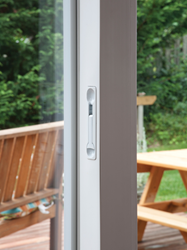 Tacoma, Washington (PRWEB) October 06, 2014
Milgard launches SmartTouch® Bolt, the company's most advanced security lock yet --- available on Tuscany® Series and Montecito ® Series patio doors today. The SmartTouch® Bolt is a secondary lock that is fully integrated into the Milgard patio door with no visible fasteners.
The concept of SmartTouch Bolt was born out of the consumers' desire to have a secondary lock on their sliding patio doors. "Instead of people closing their panel, grabbing a dowel or chopped up broomstick, bending over and putting it back in the track, we integrated a flush bolt into the panel," says Milgard engineer Travis Dodge.
The SmartTouch Bolt provides added protection with steel reinforcement built seamlessly into the door. SmartTouch Bolt also acts as a vent stop to keep the patio door slightly open for ventilation while the door remains in a locked position. SmartTouch Bolt will replace the current vent stop option for Tuscany Series and Montecito Series patio doors.
Milgard will offer SmartTouch Bolt as part of the SecurityMAX package, which combines a multi-point locking system with the flush bolt for five locking points on the patio door.
For a limited time, consumers will receive a rebate for the SmartTouch Bolt and SecurityMAX package when they purchase new Tuscany Series and Montecito Series from a local Milgard dealer.
Disclaimer: Locks are designed to improve security and are not guaranteed to keep intruders out under all circumstances.