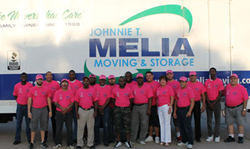 'We are very committed to our customers, our employees and special causes like The Rose,' says Melia.
Houston, TX (PRWEB) October 04, 2014
If you are planning a move during the month of October, you may see your movers wearing pink hats and t-shirts when they show up. JT Melia Moving and Storage Company is a family owned company whose motto is "The Movers That Care." Today, the company announced that they care about doing their part to prevent and cure breast cancer by donating a portion of their fees for each move during the month of October to The Rose, a nonprofit breast cancer organization.
The Rose is the Houston area's leading 501(c)(3) non-profit breast cancer organization providing mammography screening, diagnosis, early access to treatment and support to all women, regardless of their ability to pay. "The Rose depends on revenue from paying customers, grants and donations," states Brandon Melia, owner of JT Melia. "We are thrilled to do our part to support their cause and to make our customers and the public aware of the great services that The Rose provides to thousands of people."
JT Melia specializes in local Houston moves as well as long distance moves. They also feature commercial moves and office relocations. The company provides packing and storage solutions as well, and prides itself on packing with care, as if they were packing for themselves. Some employees have worked with the company for over 20 years and know how to pack a box with that special touch.
"We are very committed to our customers, our employees and special causes like The Rose," says Melia. "We take the stress out of moving. Why not take the stress out of caring for your health as well?"
To get a quote from JT Melia, please contact Brandon Melia at 713-683-8585 or visit http://www.jtmeliamoving.com. To find out more about The Rose, go online to http://www.therose.org