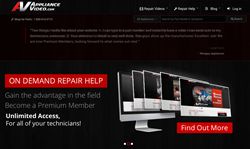 Saint Louis, MO (PRWEB) October 03, 2014
Marcone Servicers Association is happy to announce the latest advance in our ongoing partnerships with the appliance industry's top leaders. Starting October 2nd, MSA members will receive a free trial premium membership to ApplianceVideo.com as a Marcone-exclusive introduction to this powerful education tool. The new premium training video site features the latest, most technologically-advanced appliances from top manufacturers, and every video is researched, reviewed, and produced by Appliance Video's team of 14 factory-certified technicians and professional video crew.
In order to meet the demands of the ever-changing appliance service sector, Appliance Video founder Matt Janowiecki says his team began putting together videos tailored to the specific questions they got from technicians. The in-depth educational videos focus on the the newest appliances hitting the market, and cover everything from use and care guidelines to diagnostic modes and error codes.
Boasting more than 1,850 free repair videos and an expansive real-time repair help section, ApplianceVideo.com has long been a go-to resource for appliance servicers. Appliance Video registers 500,000 views per month on its free videos, and is set to grow quickly since adding the premium video series. With an updated design and easy search function, techs can look up videos by model, part number, symptom, and brand from a computer or mobile device—all of which makes in-the-field repairs simpler and quicker.
A premium subscription at ApplianceVideo.com entitles members to a growing library that already hosts 90 videos covering more than one thousand minutes of training on subjects like GM's SmartDispense™ technology and Viking Dual Fuel ranges. A new appliance is featured each month, and premium membership holders may even request which make and model will be the topic of the next month's training videos. Members of Marcone Servicers Association get three months of unlimited premium video views at ApplianceVideo.com, a $90 value.
ApplianceVideo.com is a top digital training resource for professional appliance servicers and DIYers alike. The site's videos are produced by the team of technicians at Ace Appliance of Toledo, founded and owned by Matt Janowiecki.
MSA is the appliance industry's leading servicer trade organization, offering benefits, training, and insurance coverage to individual technicians and appliance service companies since 1998. The group is backed by North America's largest distributor of OEM appliance parts and accessories, Marcone Supply.