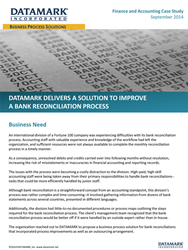 (PRWEB) October 07, 2014
DATAMARK, Inc., a leading provider of business process solutions, including bilingual (English/Spanish) contact center services, today announced the publication of a Finance and Accounting (F&A) case study documenting how DATAMARK's Business Engineering team developed a transformative solution for a Fortune 100 company's bank reconciliation process.
The Business Engineering consulting team is tasked with analyzing clients' current business processes and developing improvement solutions using Lean Six Sigma methodologies and other tools designed to streamline workflows by removing non-value-added steps while improving the quality and accuracy of the process' output.
In this case, the client sought assistance from DATAMARK to improve the workflow of bank reconciliation--the process of analyzing and adjusting balances between bank statements and accounting records.
The client needed an outside perspective to help improve its documentation of the process steps, as well as accurately map the workflow so all steps were clear and understandable to everyone involved.
The paper outlines the Business Engineering team's approach to documenting and mapping the process and proposing a cost-saving outsourcing solution to improve the handling of bank reconciliations while freeing client F&A staff to focus on more complex core business functions.
The case study, "DATAMARK Delivers a Solution to Improve a Bank Reconciliation Process," is available for complimentary download at this link:
http://info.datamark.net/bankreconciliationsolution.html
About DATAMARK
DATAMARK, Inc. is a leading business process outsourcing company specializing in high-volume digital mailroom management, document processing/document management, bilingual (English/Spanish) contact centers and process improvement consulting for Fortune 500 companies and other large enterprises.
Headquartered in El Paso, Texas, DATAMARK employs nearly 2,200 people in its U.S., Mexico and India facilities. For more information, visit http://www.datamark.net. Follow industry news and trends at DATAMARK's Outsourcing Insights blog at http://www.datamark.net/blog.