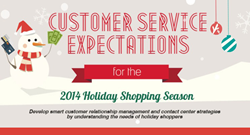 El Paso, Texas (PRWEB) October 28, 2014
DATAMARK, Inc., a leading provider of business process solutions, including bilingual (English/Spanish) contact center services, recently announced the release of a new infographic, "Customer Service Expectations for the 2014 Holiday Shopping Season."
The infographic was created by DATAMARK to assist call center managers and others with leadership roles in customer relationship management plan strategies for the upcoming holiday shopping season, which will kick off on Black Friday, Nov. 28, the day after Thanksgiving.
"There is a lot of excellent research data available from many sources focusing on what shoppers want during the holiday season from customer service departments, be it the sales floor in brick-and-mortar stores or support from customer service agents online and in call centers," said DATAMARK Marketing Coordinator David Peregrino. "We brought this information together in a holiday-themed infographic to create a concise, easy-to-understand snapshot of shoppers' sentiments."
From the start, customer service staff in stores and in contact centers will have to overcome shoppers' negative perceptions: 45% believe customer service is worse during the holiday season. This may be due to an increase in seasonal hiring of customer service staff who are not as knowledgeable of products and services as regular, year-round employees.
Shoppers also expect customer service to be quick with answers--otherwise they may abandon their attempted purchase. And recent news about information-security problems at big-name retailers are discouraging shoppers: 16% say they would "definitely not return" to stores that experience a data breach.
To learn more about shoppers' expectations of customer service during the holiday season, view the infographic on DATAMARK's Outsourcing Insights blog at this link:
http://www.datamark.net/blog/infographic-customer-service-expectations-holidays
About DATAMARK
DATAMARK, Inc. is a leading business process outsourcing company specializing in high-volume digital mailroom management, document processing/document management, bilingual (English/Spanish) contact centers and process improvement consulting for Fortune 500 companies and other large enterprises.
Headquartered in El Paso, Texas, DATAMARK employs nearly 2,200 people in its U.S., Mexico and India facilities. For more information, visit http://www.datamark.net. Follow industry news and trends at DATAMARK's Outsourcing Insights blog at http://www.datamark.net/blog.